Free Butterfly Stencils.
This free outline for butterfly stencils is pretty much my own creation. I changed one that I found enough that it should pass any copy law. If you think that it resembles someone else's stencil design a little too closely, contact me and I'll be glad to defer to any pre-existing copyright once proven. You can resize it to work for as large a wall or mural as you want.



Visitors Who Like This Page Also Enjoyed these Pages:


I chose to do a butterfly stencil design as part of the wall decor for a baby's butterfly nursery theme. The ones that I saw in the stores weren't sturdy and reusable and were certainly not free.
I thought I'd try my hand at making my own butterfly stencils to see if I could compete with the selection of butterfly patterns and designs from the discount store. The large butterfly outlines from the craft supply stores were blocky and unrealistic. I think that my stencil pattern turned out pretty well.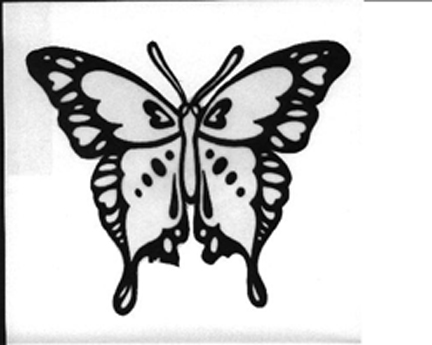 SEE MORE HERE
Follow basic stenciling procedures and instructions for drawing your stencils with a butterfly outline to the letter for the best chance of success. Then when applying the butterfly stencil to the wall, the best way to keep your paint in the right place will be to use a very gradual application of paint. After dipping into the craft paint, blot your stenciling brush until it's almost dry. Take special care to get really thick sheets of stenciling paper, stenciling plastic sheets or whatever they call the sheets you will use to trace your butterfly outline or design. They will know what you need at the craft store and advise you further.


BUTTERFLY NURSERY BEDDING SETS

BUTTERFLY BABY GIFTS IDEAS

BUTTERFLY NURSERY THEME IDEAS

BUTTERFLY THEME BABY SHOWER IDEAS

This is a delicate,detailed butterfly wall stencils design for a small or large wall stencil. The wonderful thing is that once you create your free butterfly stencils using our pattern, save them to use in future decorating projects like a butterfly nursery theme or a big girl's bedroom.
If this design is not what you were looking for, that's fine because it's just as easy to make your own stencils. Buy a kid's coloring book and take small parts of simple butterfly pictures and draw the outline with enough modifications so that it will be unique. This is a great way to make your own free butterfly designs. Draw the outline taking care that you have wider than average lines to divide the colors. If you have time, try making your own custom stencils!
If you are in a hurry to complete your nursery wall painting project. You can buy some of the ready made stencils to complete your baby's butterfly or cottage garden decor. The really nice thing about stenciling over wallpaper is that you can be sure that there will be a perfect match of your paint colors to your butterfly baby bedding set. In fact, you can stencil butterflies on yards of baby bedding fabric and then sew your own crib duvet cover and nursery window treatments.
And when you're done, please come back to see more butterfly baby nursery ideas and when you do, you are more than welcome to upload some pictures of your own baby's butterfly room!