Baby Stencils
Nursery Wall Stencils for Stylish Baby Rooms
Baby Footprint Stencils for Scrapbooking
Baby stencils may be least expensive way to decorate the baby's nursery walls! I know that you are busy as can be, but please consider that the amount of time and paint involved will be minimal and the decorative rewards are great. Even the large stencils that create complete wall murals move along at a fast pace and you can save lots of money by making your own baby footprint stencil for scrapbooking!




The mural on our baby girl's wall includes, birds, a birdhouse, a large tree and lots of flowers. We used all of the patterns that came with a mural kit to decorate her walls but if you are working with a small room, just choose the patterns that work for the size of your space.
A large tree mural isn't always possible due to a lack of space but this isn't a problem; a few birds, clouds and a flower or two work just fine.
How to Make Your Own Baby Footprint Stencil
It's so easy to make your your own baby footprint stencil patterns! All you need is a
baby footprint pattern
or you can use
free baby footprint clipart
for scrapbooking or to start stenciling a wallpaper border with one of the most precious baby stencils of all; your own baby's unique footprint.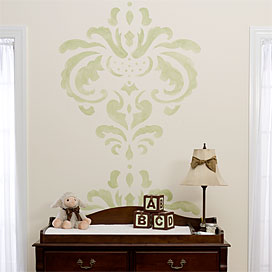 Nursery Tree Stencil
As you can see, stenciling a tree mural in several stages using stencil patterns that are layered one over the other gives the design a 3D look that is colorful and much more interesting than an image that is stenciled using a single pattern.
The trick is to always wait until you are absolutely certain that the paint on the section that you just painted with your baby stencils is completely dry before painting the next layer. By following these instructions the colors of your tree wall mural will be crisp, bright and there are no smudges.
Please plan to visit our website again soon to find more
stencil ideas for a baby girl nursery
,the best stencil patterns for a
baby boy nursery
and
baby nursery ideas
for either. You will also want to visit our gallery of pictures to see all of the mural designs created using
baby stencils
shared by real moms.