Free Leaf Stencils for Arts and Crafts Projects and DIY Painting and Baby Nursery Decor

I recommend that you use free leaf stencils as part of an  arrangement to enhance your latest fall crafts projects.  It's also a good idea to vary the sizes and shapes of the leaves as well as the colors for interest.  They can be tinted to complement the colors of a room, party or in shades as found in nature; it's up to you!
Leaves in gold, green and rust are lovely for autumn themed arts and crafts but the very same templates can be used in the spring simply by changing their color to bright green.
Use the leaves as part of a nursery mural painting or to create a painted border that is less expensive and certainly more versatile than any wallpaper border that you might buy.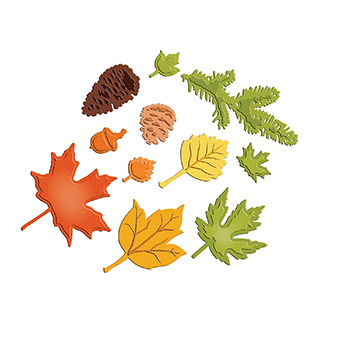 You can even make your very own leaf stencils by taking a field trip to your local forest to collect maple leaves, oak leaves or even palm tree leaves to use in creating a pattern.
When you are done with your project you are invited to add your designs to our collection of free printable patterns.
After filling in the main color values consider using a liner brush to add details. Add highlights or veins and prepare to be amazed at how unique and original the art appears. Just as in nature; no two are the same!
Surround the leaves with butterflies, acorns or attach them to a stenciled tree branch. If you buy your stencil patterns, you can save money by shopping for sheets that include a variety of insects or plant species.
Stenciled leaves are stunning on homemade invitations, greeting cards and announcements but they can be used to enhance many items including party decorations and gifts.
Stenciling Tips
1. Remember that it's easier to paint from the background forward and from the bottom up in any mural or picture. 2. Always apply paint very lightly, it's easier to add more than to remove unwanted paint runs and drips. 3. Use quality stencil sheets whether you buy your patterns or make your own so that you can reuse your patterns many times over without the sheets getting floppy. They may cost a little more, but you will be happier with them in the long run, as you will only have to trace and cut your pattern once instead of doing it over and over.
FREE Leaf Stencil Patterns
HERE
are a variety of templates for popular tree leaves including elm tree leaves, maple leaves, chestnut leaves and oak tree leaves.
THIS
page has a printable stencil pattern for a holly leaf for Christmas arts and crafts projects as well as a clover or shamrock leaf pattern for St. Patrick's day crafts, a maple leaf in several sizes ranging from medium to large and others that might be used to paint designs on the wall or other projects.
I hope that you enjoy using our free printable autumn leaf stencils and would like to invite you to share pictures of your project with other visitors who stop by
Unique Baby Gear Ideas
.