Buying Antique Vintage Toys to Decorate a Baby's Nursery
If you have a large collection of vintage toys don't pack your antiques and fleamarket treasures away in boxes! Use your antique toys as the foundation for your vintage style baby decor. Whether your collection is vintage teddy bears, riding toys or circus clowns, there are popular nursery themes where you can put them to use in designing a unique one of a kind room for your newborn.




Take your cues from a vintage baby carriage or an antique baby bed and cradle set that you've had tucked away in the attic.
Once you isolate your favorite items, the decorating ideas for a vintage nursery for a baby girl or boy will start to flow. What an opportunity to put your ancestor's precious, porcelain baby dolls on display.


If you are lucky enough to own a picture of your ancestor with one of the dolls in her arms or being strolled, this photo would provide a lovely focal point for the nursery wall and a way to introduce your infant early on to history as well as the fun and benefits of collecting.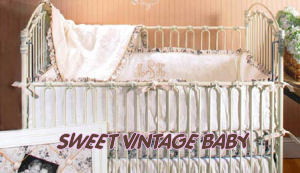 SEE MORE HERE
Vintage toys, antique baby furnishings and items can be used in so many baby nursery themes! Learn how to clean your antique toys so that they don't lose their value and so that they won't look used, dusty or sad. The proper method of cleaning antique toys is important, so consult a professional. Speaking of cost and value, do you know how much your antique or vintage toys are worth? If not, please consider getting antique toys appraisals done by a person qualified to do appraisals on antiques!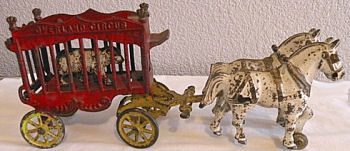 Vintage Bear Toy for a Baby Nursery
Iron toys like this polar bear circus train toy are as collectible as they are cute and make delightful decorations in many popular nursery themes.
Antique John Deere Tractor toys are a good fit for a farm theme nursery while antique cars, trucks and even old car tags suit a transportation theme room.
Here are some ideas on how to use your vintage toys in your themed baby rooms:
VICTORIAN
Hang a few articles of vintage baby clothing on some decorative wire hangers. Decorate your old hangers with large bows made from aged satin ribbons, properly faded of course. Display the clothes on ornate iron or wooden wall pegs. Frame some family photographs in heavy silver picture frames on heirloom tables. Decorate your baby's crib with a set of toile baby bedding and you're all set. Study some magazines that have pictures of the Victorian style of decorating for nursery painting ideas to compliment your room.
The best paint colors for this bedroom might be found in the historic paint section. These paints will give you great choices for interior paint for a Victorian room. They will also allow you to creat balanced historic paint schemes. These colors will more than likely be perfect matches for the paints on your vintage pieces and other precious collectibles. Your historic paints should be chosen to give the same warm and inviting feel that you get from your antiques.
CIRCUS NURSERY
The combination of vintage circus baby bedding sets with framed pictures of circus animals, circus posters or banners would be super. Arrange your toy clown collection on wall shelves and step back to enjoy the show.
PATRIOTIC
Toy soldiers, drums and antique flags would be great for an Old Glory style room. What a fabulous way to introduce baby to his country's history!
DISNEY
Disney movie posters, collectible dolls or figurines can be used with many nursery accessories available in the stores today. Disney items will never look dated. If you want a more colorful theme, this is one of the best for a baby girl or boy.
There are just so many ways to use vintage toys in your decorating projects. There are certainly far too many to list on this page. Look through your magazines at pictures of tastefully decorated rooms that use antiques and other old stuff as accessories to get ideas and have fun!
Please plan to visit Unique Baby Gear Ideas again soon too find more vintage baby nursery ideas for boys and girls PLUS a gallery of pictures featuring cute baby bedding sets and vintage gift ideas for a newborn.