Cuddly, Cute Teddy Bear Nursery Theme Ideas and Decor for Baby
If there is a kids' room theme that is more traditional than a teddy bear nursery theme, I can't think of it. Since President Roosevelt spared the bear's life on that hunting trip almost a century ago, teddy bears have been a favorite decoration in kids rooms. Many parents have treasured collections of stuffed bears that they have kept since they were kids and are looking for ideas for decorating their baby's nursery with them and we are here to help!


In a small room where a large display of stuffed bears would take up too much space; a wall mural provides a themed focal point without taking up any room at all.
Visitors Interested in Teddy Bear Baby Nurseries Also Enjoyed These Pages:

NEW! Teddy Bear Baby Bedding Sets

Rustic Bear and Moose Baby Nursery Ideas

Faux Bear Nursery Rugs



Some collectors display their bears in glass cases to keep them in mint condition and others have a special bear tucked away in a hope chest that they take out on special occasions when they want to connect with special childhood memories or just to give it a hug.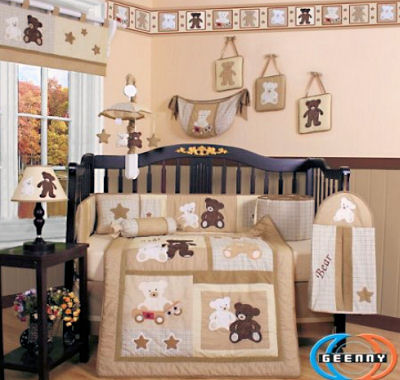 SEE MORE HERE
Stuffed teddy bears have been giving children comfort and a shoulder to cry on when things were not going as well as they might for quite a long time. Practically everybody that I knew when I was a kid had a favorite bear that decorated the bed when the children were not in it and snuggled with them under the quilts when they were.
DECORATIVE ACCESSORIES FOR A TEDDY BEAR NURSERY THEME
TEDDY BEAR CRIB SETS
Begin the decorative process for your teddy bear nursery theme by shopping for just the right teddy bear baby bedding set. There should be a reasonable selection for you to pick from including teddy bears to crib bedding sets with a theme within a theme such as black or brown bears in a forest setting or ballerina bears for baby girls.
Here are some ideas to jazz up your teddy bear nursery design:
A combination teddy bear Noahs Ark bedding set is a cute idea for a twins nursery especially when you can't make a decision between a classic teddy bear crib bedding set and the Noah's Ark set
Moms that are decorating a baby boy's teddy bear nursery seem to like the blue jean teddy bear combination. The denim gives it a more masculine look which gives them a better chance for daddy's approval of their chosen style of nursery decor
Baby angels, teddy bears and harps combined with a set of Heavenly angel baby bedding will produce a lighthearted inspirational or spiritual nursery for a baby girl where she can hang her halo
If you can't find a set with fabrics in colors that you like, then your only recourse is to buy your own fabric and make your bedding yourself or have it custom made. It's not expensive to have your sewing done for you and if you pick up your fabric at a discount and make the bedding yourself it will be really cheap! Many experienced seamstresses can turn out a crib comforter, bed skirt and bumper pad in an afternoon and don't even have to have a pattern. Don't settle for ready made bedding that isn't your taste. You don't have the opportunity to decorate a teddy bear nursery theme very often, so get something that makes you happy.
TEDDY BEAR DECORATING IDEAS
Once you have your crib set lined up, the rest will fall into place very easily. If your budget is tight or if you are designing your baby's bedroom in an apartment, permanent light fixtures, chandeliers or wallpapers may not be an option. Painted wall murals and decorative painting techniques may be forbidden territory to the apartment dweller, as well.
Here are some creative ideas that will decorate your teddy bear nursery theme in a stylish fashion that are portable as well as inexpensive.
Pick up a used teddy bear patchwork quilt for a song at a yard sale if you like the idea of a vintage teddy bear nursery theme. Buy some mounting hardware and use the quilt as a wall hanging. If some parts of the handmade quilt are worn, use it as a cutter to make pillows with the appliquéd portions positioned in the center.
Install bear theme ceramic lamps and switch plates rather than hard wired light fixtures
Frame some teddy bear pictures, posters or prints in document frames and group them in attractive arrangements on the nursery walls
Buy a teddy bear wall clock
Use a bear shaped area rug to decorate the nursery floor
Of course all decorative accessories will have to be color coordinated with the rest of your baby items and bedding, but as popular as teddy bears seem to be you will have no problem in finding bears of all sizes, shapes or colors. While you are caught up in decorating the bedroom, don't forget to give your baby the gift of a special teddy bear of their very own to love and share their most precious secrets that they would never trust anyone else to keep.
Please visit a Unique Baby Gear Ideas again to see more cute decorations and accessories for your baby's teddy bear themed nursery room.
SHARE IDEAS - PICTURES of TEDDY BEAR THEME NURSERY DECOR
Do you have a great set of baby bedding or a picture of a nursery that you decorated in a teddy bear theme? Share it!
TEDDY BEAR THEME NURSERY DECORATIONS, PICTURES and DECORATING IDEAS
Click below to see teddy bear baby bedding sets and nursery decor.