Quaint Vintage Nursery Themes, Decorating Ideas and Decor for Baby's Room
Vintage nursery themes are a favorite of parents who view the past as a romantic time in history. The feeling of being surround by items steeped in the past gives some a sense of place and belong. Plus, there are families that, like me, have a difficult time getting rid of pieces that have been in the family for generations.




The thought of these items being sold at flea markets or on EBay is unacceptable so they are faced with the task of finding ways to include these treasures in the nursery and other rooms of the home.


The vintage nursery pictures that we have to show are examples of how other parents have managed to decorate using antiques that have been passed down to them or picked up at garage sales or second hand stores.

Visitors Interested in Vintage Baby Nursery Decor and Decorating Ideas Also Enjoyed These Pages:

Vintage Baby Nursery Ideas

Vintage Shabby Chic Nursery

Vintage Toys

An old trunk in the attic packed full of antique quilts holds a treasure trove of possibilities for this style of nursery decor, faded fabrics, worn spots and all! Wooden quilt racks on the nursery walls decorated with vintage quilts made by your baby's ancestors are priceless and more beautiful than any vintage artwork you could ever buy. If the quilts are damaged beyond repair, consider salvaging portions of them to make some shabby chic pillows for the nursery rocker, a patchwork teddy bear and other nursery decorations with a look of "long ago".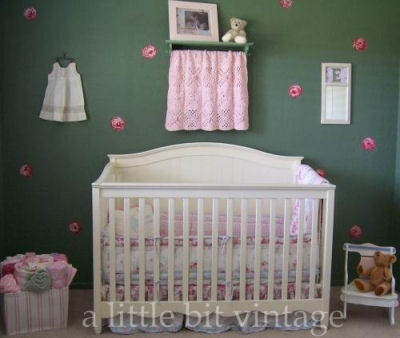 Go here to see all of the
possibilities for various vintage themes as well as the ever popular shabby chic style.




Page 1
,
Page 2
,
Page 3
,
Page 4
,
Page 5
,
Page 6
SHARE IDEAS - PICTURES of VINTAGE NURSERY THEME DECOR
Do you have a great set of baby bedding or a picture of a nursery that you decorated vintage style or theme? Share it!
VINTAGE NURSERY THEME DECORATIONS, PICTURES and DECORATING IDEAS
Click below to see the latest vintage theme bedding and nursery decor.
VINTAGE BASEBALL NURSERY
If you have a shadow box filled with autographed baseballs from back in the day with a baby boy on the way, you are to be envied because vintage nursery themes decorated with baseball memorabilia are all the rage! And if dad has some old baseball cards that he has hung onto since his own glory days on the diamond; well, you have the makings of a unique baby nursery that is full of history and truly one of a kind!
VINTAGE CIRCUS NURSERY
A capital way to kick off this theme is with vintage circus posters. Big Barnum and Bailey prints and pictures lining the walls open the door to decorating the rest of your vintage nursery theme with your collection of carousel horses or your favorite circus animal from lions, tigers and elephants to trained seals. I once decorated a vintage nursery in a circus train theme filled with vintage toys that was absolutely delightful!
VINTAGE COWBOY NURSERY
I love the colors and patterns on the old cowboy print fabrics from back in the 1950s. Pick up a few old cowboy pictures in black and white, throw in a set of vintage cowboy baby bedding made from these fabrics and your little cowpoke's vintage nursery theme will stand up to any bunkhouse ever found in the old west.
MORE VINTAGE NURSERY THEMES
In addition to shabby chic and vintage nursery decor for sports fans, here is a list of a few more popular vintage nursery themes that you might want to explore.
Vintage Baby Nursery Rhymes Theme
Sock Monkey Nursery Theme
The beauty of vintage baby nursery themes that have been shared with us by visitors to Unique Baby Gear Ideas is that they feature family heirlooms with history that can be shared with the child that occupies the room.

If you would like to share your vintage baby nursery pictures with us, please feel free to use the form that I've placed on this page for that purpose.