Fairy Tale Fairy Nursery Theme Ideas and Baby Room Decor
Is your vision of the ideal fairy nursery theme an array of very bright colors or a display of soft, pastels? We have examples of both to share with you today. Imagine stepping through a magical doorway into a space filled with fantasy and enchantment.
Let your nursery be an airy light filled space filled with tranquility and wonder. Take a moment to stroll through the world that Mary Cicely Barker chose to paint in her famous illustrations of Flower Fairies.

Fairy Baby Nursery Wall Decorating Ideas
Fairy Nursery Bedding

In her drawings, pastels and colors of spring set the tone just as they should in your baby's nursery theme.
The nursery furnishings will be the anchors for this fairy nursery theme castle in the clouds so no darkly stained woods are called for in this bedroom. Those that choose furniture in darker wood tones often compensate with lighter shades in the fabric used for the window treatments and crib canopy.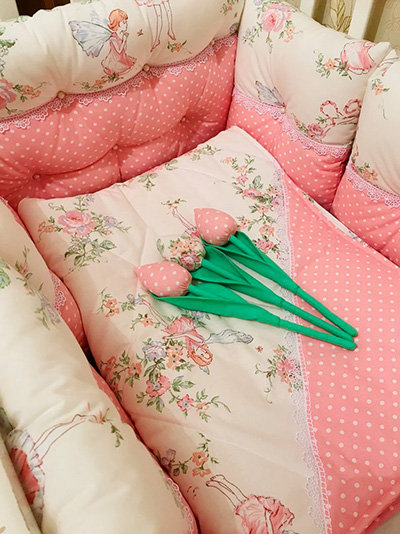 Go here to see more fairy themed crib sets and toddler bedding.

All the decor needed for a pixie theme baby room design
The decor should make you think of floating above the floor leaving the cares and concerns of mere mortals outside the nursery door. This will be an excellent theme for crisp white nursery accessories. Not all the nursery furniture must be white but light airy colors will work best for a room decorated for a boy or girl.
Take a do it yourself attitude and hand paint some of your fairies yourself. For a fine fairy baby room, give our wee folk a touch of glitter on their fluttering, gossamer wings, tiny gowns of flower petals and butterfly wings in soft pastel colors.
For a baby boy's themed nursery painting should take a more neutral color paint and use more masculine nature colors. Paint leaves, woody textures, and leathers instead of the flowers that we used for our feminine counterparts' clothing. There are loads of stuff you can use for a boy's fairy bedroom without making it look too frilly or feminine!
Pose some of your fairies busy at work and others soaking up the bright yellow sun in the garden.
Include gnomes with a backpack full of twigs for sale. Picture a trouble-making big nosed goblin lurking in a tree. Don't forget the troll under the toll bridge waiting for his next victim!
Here is an idea! Give the little boy fairy some forest tools or a bow and arrow and quiver with a mischievous look. Give the male fairies pointed ears and leave off the wings to indicate they are the men of the forest.
Here's a tip: a set of fairy wallies, stencils, decals and sticker books are always excellent resources for helping to customize our nursery furniture and wall decor.
Fascinating fact: In the world of the wee folk pixies, elves, wood sprites, and leprechauns are actually males.
Display some fine collectible fairy figurines on floating shelves Hang delicate fairy nursery theme framed art prints on the nursery wall. Choose light gauzy fabric for your window treatments and you will have put together a fine fairy room for your baby.
This is a room that can grow up with a little girl. Replace the fairy baby bedding set and crib with a toddler bed and your fairy nursery theme will look fresh and appropriate for years.
Please visit Unique Baby Gear Ideas' photo gallery where you will find many creative fairy themed decorating tips and techniques that you can use in your own decorating project.
SHARE IDEAS - NURSERY DECORATING IDEAS and DECOR
Do you have a great set of baby bedding or a picture of a nursery that you decorated? Share it!
NURSERY PICTURES, IDEAS and SUGGESTIONS from our FRIENDS
Click below to see contributions from other visitors to this page...

Once Upon a Time Fairy Tale Nursery

I have some ideas for putting together a Once Upon a Time fairy tale nursery theme as well as a baby shower in this theme I gave for a friend who is expecting …