Vintage Cars Route 66 Baby Nursery Theme
by Jan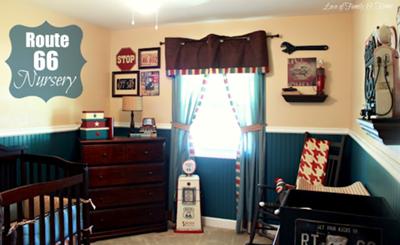 This baby boy's nursery room is decorated with vintage car license plates and a collection of Americana in a Route 66 theme in a very attractive masculine color scheme that moms and dads will love.
Dads, moms, NASCAR fans, virtually all car enthusiasts will love this vintage Route 66 baby nursery theme! When I showed these baby boy nursery pictures to my husband he said that he would be more than happy to have a room decorated just like it!


I have no doubt that he is serious considering how crazy he is for old cars and rusty old signs and stuff.



I would never agree to a bedroom like this but it is a dad's dream room for a son.
Go Here to See More
vintage car decor for your son's nursery room.
This is not the first time that he has suggested decorating our room with a collection of souvenirs and memorabilia that his family bought at roadside stands and service stations way back in the day. I confess that Tonya's
baby boy nursery pictures
have made the idea more appealing.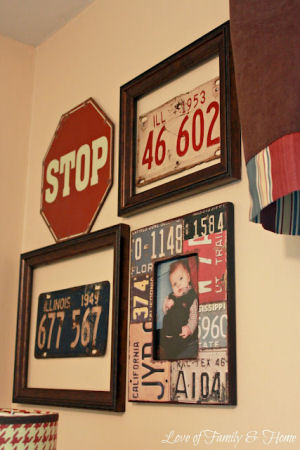 She and I share the view that a room for baby shouldn't look as if it popped out of a box nor should the design be too, too "themed", especially not a vintage nursery.
It's possible to get the look that you want without having a custom baby bedding set specially made. Tonya knew when she saw the Aiden Cocalo Couture crib set that it was exactly what she wanted.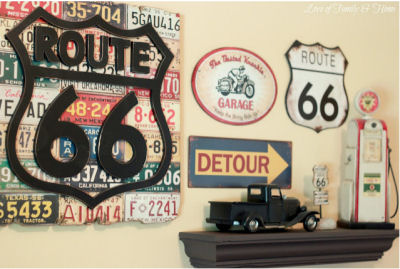 The bedding helped her choose the wall paint color and inspired her to design the beadboard and trim similar to a project that she saw in a Lowe's Creative Ideas catalog. My husband dreads the sight of that catalog. Does yours have the same opinion?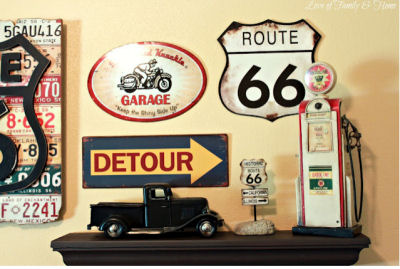 The treasures on the shelf as well as the vintage road signs included in the gallery wall arrangement were found over a period of time. Every piece is so unique that it would be impossible to find everything at one time!
Tonya's grandmother gets the prize for the primo find for the baby's room, a miniature replica of a vintage Route 66 service station gas pump!
The eclectic blend of vintage memorabilia, road signs and colors are what make this baby boy's Route 66
baby nursery theme
ROCK
. That was the actual word the hubs used awhile ago in voicing his opinion, not decor. I didn't tell y'all at first because I wanted him to sound more sophisticated (read: less juvenile) until you knew him a little better.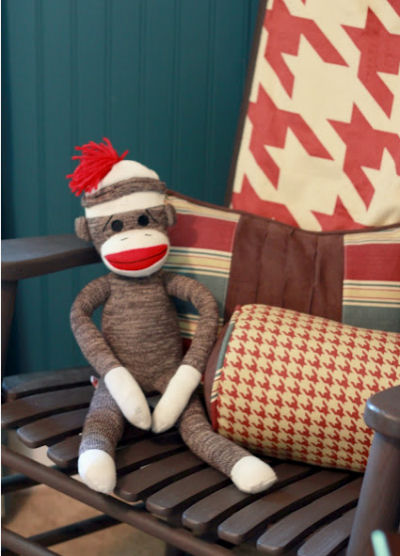 In the spirit of keeping things from becoming too theme-y, a sock monkey that coordinates well with the retro atmosphere of the room, waits for a snuggle in the rocking chair surrounded by a rust and antique white houndstooth pattern throw blanket.
I hope that
Unique Baby Gear Ideas
' visitors have enjoyed taking a tour down memory lane with us via Tonya's nursery pictures and that you will visit her blog,
Love of Family and Home
to see more pictures of her son's room as well as her latest projects.