Beatrix Potter Nursery Theme Baby Decorating Ideas
A Beatrix Potter nursery theme is a wonderful opportunity for babies as well as adults to enjoy all of the favorite and familiar characters from the Beatrix Potter collection of books.
This one of the most popular, classic baby nursery designs based on a storybook theme that will never grow old as it can take so many different twists and turns unlike most vintage themes.
How could we ever tire of decorating with such a colorful and eclectic cast of characters?
For example, Peter Rabbit murals are featured in many
baby boy nursery themes
, Beatrix Potter nursery bedding lends itself well to
a baby girl nursery themes
and Jemima Puddleduck is a favorite in a
neutral nursery
design.
Go here to see
blankets, bedding and décor that can be used to decorate your baby's room.
Beatrix, Peter Rabbit and friends lived in a colorful location leaving DIY decorators plenty of flexibility when choosing a color scheme for the nursery. It also means that this is an excellent choice for a boy and girl twin nursery. Imagine how adorable a combination Beatrix Potter Peter Rabbit nursery theme might be.
There are
Beatrix Potter baby gifts
, Beatrix Potter lamps, cribs, fabrics and
Beatrix Potter baby bedding
and products galore available to use as decorations in your baby's quaint Beatrix Potter nursery theme as well as:
Peter Rabbit Nursery Murals
Beatrix Potter Wall Decals and Stickers
Peter Rabbit Baby Bedding
Peter Rabbit Baby Shower Ideas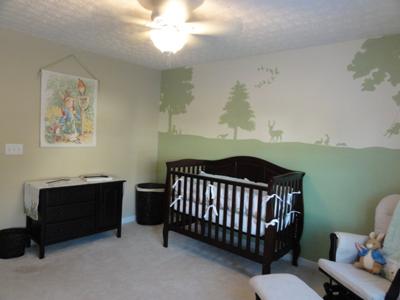 Beatrix Potter Peter Rabbit Wall Hanging and Mural Ideas
If you will notice they are all pictures taken from the pages of the storybooks! You can now cover your walls with a Peter Rabbit wallpaper mural and other cute bunny prints. Many of these beloved images have been enlarged so that you can now get Tale of Jeremy Fisher posters that look so cute in a themed room! Here's one of many unique nursery decorating ideas, take a picture from one of the story books, enlarge it and decoupage it onto the headboard of your baby's crib! Voila! A Beatrix Potter crib themed perfectly for your Beatrix Potter room and it's so cheap to make!
Did You Know That the Characters of the Tale of Peter Rabbit are Anthropomorphic?
The famous storybook characters are anthropomorphic and you can go
HERE
to see exactly what that means!
I would suggest a muted pastel wall as one of the many nursery painting ideas for your Beatrix Potter Nursery Theme softly tinted almost watercolor Beatrix Potter Wallpaper might just be too busy with all of the Beatrix Potter prints that you will employ.
If you choose a Beatrix Potter print fabric for the baby's crib bedding set, be very careful not to make too many other nursery accessories from this print as it will make the nursery very jumpy.
In addition to some framed Beatrix Potter artwork and perhaps some do it yourself wallhangings, get creative and do a few totally unexpected wall treatments in your Beatrix Potter nursery theme project. There are some really cute embellished Beatrix Potter Illuminated Alphabet and some large Garden Guinea Pig stickers that you can use for this project. Bring in some of Beatrix's friends, Jemima Puddleduck, the Mouse Family, Mr. McGregor and others to keep Beatrix and your baby company. Ducks, mice and bunnies are all themed accessories to keep in mind.
Please visit
Unique Baby Gear Ideas
often to find more classic nursery ideas and everything you need to decorate them in style.