Best Mickey Mouse Baby Nursery Theme Decorating Ideas
A Mickey Mouse baby nursery theme may just be one of the best all time favorite styles in nursery decor. Mickey Mouse, a classic favorite cartoon figure is so cute that it's just natural that moms would want Mickey Mouse pictures, Mickey Mouse baby bedding sets and other decorative items for their baby boy's nursery. His feminine counterpart, Minnie Mouse, is perfect for their baby girls nursery themes.



Visitors Shopping for Baby Mickey Mouse Nursery Ideas Also Enjoyed these Pages:

NEW! Mickey Mouse Nursery Bedding

Baby Mickey and Minnie Mouse Pictures

Mickey Mouse Wall Decals



When you think of this famous mouse, you might think that plain white paint might be the best color for painting Mickey Mouse baby nursery theme rooms but other parents had ideas that involved bold primary colors and the completed product was very cute.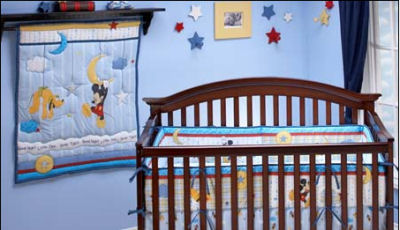 Many decorators believe that the best paint color for a Mickey Mouse baby nursery theme would be plain white. The reason for this is that Mickey and Minnie Mouse, with their black, pink, red and white coloring, would compete with anything but a neutral color. However, new Disney and Mickey Mouse baby bedding sets have expanded our color selections tremendously.




The latest Mickey Mouse baby bedding sets are making use of some colors beyond what we've come to expect as well as continuing to make our traditional favorites available.
For a baby boy's vintage Mickey Mouse baby nursery theme, they have used muted, primary colors. Vintage Mickey Mouse baby bedding sets are perfect for designing a baby boy's room that's a virtual all star, sports arena. All the decorations you would need are most likely in the hall closet. Simply add the ball or sports equipment that you have on hand!


MICKEY MOUSE BEDDING SETS or MINNIE MOUSE BABY BEDDING SETS
There are baby nursery bedding sets that are gender neutral or unisex whose fabrics are printed with mouse motifs and colorful pictures of these popular mice! For a baby boy nursery, there's Mickey. For a baby girl nursery, there's Minnie and should you happen to be designing a nursery for a set of fraternal boy and girl twins, Mickey and Minnie Mouse bedding sets would be a really cute idea!

NURSERY WALL DECORATIONS
For the Mickey Mouse baby nursery theme wall decorations, you can
Get some nursery wallies or stickers with multi-colored stars
If you have some Disney wallpaper or border on hand, make wallpaper cut outs and group them on a wall
Use a few Disney stickies of Goofy, Pluto and Daisy to populate your nursery mural that you're using as a background and to keep your sweet little mice company!
Baby mickey mouse pictures,posters or prints are also a nice touch and carry the theme of your Mickey Mouse bedding sets around your room!
NURSERY PAINTING IDEAS
The best nursery paint color as backgrounds for a Mickey Mouse baby nursery theme with Mickey Mouse sports bedding pictured above would be a sunny butter yellow combined with a traditional baby blue. To tie the two painted areas together a horizontal application of a matching Disney wallpaper border would add a professional looking finishing touch. Some coordinating Mickey Mouse pictures in a plain black frame would be the virtual frosting on the cake for your Mickey Mouse baby nursery theme!
MISCELLANEOUS ACCESSORIES
Unless you want your baby rooms to appear to be overrun with rodents (no matter how cute), you will want pull in some other motifs through the use of baby nursery accessories. You could bring in primary colored stars, after all Minnie and Mickey are both Disney Movie Stars in their own right. For a baby boy's room you could accessorize with plush sports theme pillows or nursery rugs. For a Minnie Mouse room, some pastel yellow flowers would be so grand! Mickey Mouse bedding sets would call for more masculine accessories.
There are many more baby Minnie and Mickey baby nursery ideas in our library of articles to inspire you right here on Unique Baby Gear Ideas.
There are just too many nursery themes that apply to these famous Disney cartoon characters to touch on here. Once you convince daddy to part with a few of his Mickey Mouse Personal Checks made out to the discount baby center of your choice, take your time, use your imagination and have fun!