Enchanted Forest Friends Nursery Ideas
Ideas for a Baby Nursery Decorated with Owls, Deer, Fox and Woodland Creatures
We have so many forest friends nursery ideas for nature lovers that want to surround their baby with woodland creatures and all the peace and glory of the great outdoors. Hunters seem to enjoy an animal print nursery theme that features whitetail deer, ducks or other animals that support their favorite hobby of hunting wild game
Nature lovers and wildlife conservationists might prefer friendly forest bedding that focuses on endangered species or birds and creatures that they are in danger of extinction.
A forest theme room for kids or a nursery for baby usually reflects the favorite species or hobby of the parent. Themes based on the rainforest and African jungles are common.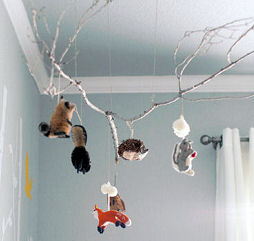 Forest animals on a tree branch baby mobile that you can make yourself are an easy way to include a variety of forest creatures in the nursery.
Baby Crib Mobiles
You would be amazed at how many ways a simple tree branch can be used as part of the nursery's decorations.
But some parents prefer a design that includes baby deer, squirrels and other creatures in their natural habitat.
Dedicated birdwatchers who march to a different drummer may make the decision to decorate their baby's nursery with focus on pictures of the elusive ivory billed woodpecker just as a member of Ducks Unlimited may choose to make mallards the focus of his child's forest theme nursery.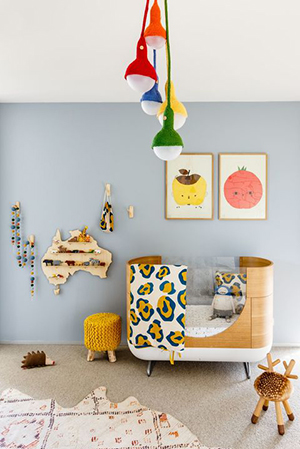 A deer and a badger feel at home with natural, log wall decorations and a crib with a natural wood finish.
Visitors Who Liked This Page Also Enjoyed:
Baby Deer Nursery Ideas
Rustic Baby Nursery Ideas
Hunting Themed Baby Nursery Ideas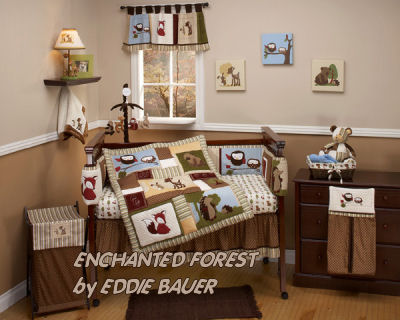 Go here to see more.
Baby Deer Nursery Themes
You don't have to be a hunter to appreciate the beauty of a
whitetail deer bedding
collection. These gentle creatures are a lovely addition to a baby girl or boy's enchanted forest theme nursery with wilderness scenes, baby forest animals and songbirds are the decorations of choice.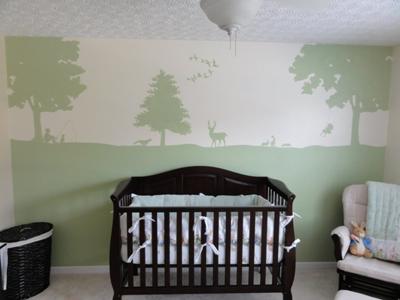 Whitetail Deer Nursery Mural Ideas
Moose, deer or even buffalo would make interesting subjects for a mural painting or art for a nursery.
Owl Baby Nursery Theme Ideas
Here are ideas for using baby owls in your baby's forest friends nursery. Owls were widely used in home decor in the late 1970s and early 80s and they are making a big comeback in the baby's room.
Make your own owl mobile using a painted tree branch and some felted owl ornaments.
Give your nursery a retro look using earth tones accented with splashes of orange and a set of owl baby bedding for the crib. Or experiment with a more natural look using framed pictures of baby owls as wall decorations.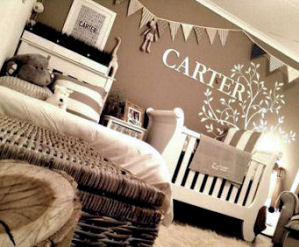 A nature theme might include reclaimed wood stumps for seating and rustic woven baskets for storage.
Nature Themed Nursery
A color combination of earth tones and creamy, antique white bond the reclaimed wood with the softer textures featured in the room.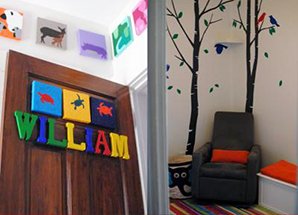 Nurseries in a natural theme, contrary to popular opinion, can be bright, colorful and feature a playful atmosphere. Forest greens, gold and neutral colors found in nature provide a calming background to bright primary colors used to paint homemade decorations, wall letters and artwork.
Expectant mothers will want to read this tutorial demonstrating how to make a DIY tree stump ottoman for their baby's nursery as soon as possible.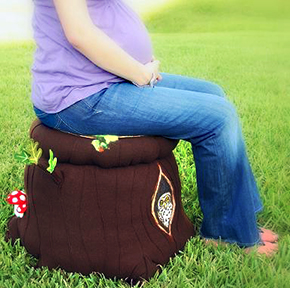 The felted mushrooms and owl decorations are perfect for a baby's forest nursery and since there is storage inside; this is an organization as well as a decorating project.
Enchanted Forest Nursery Décor to Make
PICTURES of FOREST THEME NURSERY DECOR
Do you have a great set of baby bedding or a picture of a nursery that you decorated? Share it!
NURSERY PICTURES, IDEAS and SUGGESTIONS from our FRIENDS
Click below to see contributions from other visitors to this page...

FOX HUNTING DECOR
When searching for ways to brighten an earthy, brown nursery color scheme the blazed fur of the red fox may be a brilliant ally. Look to the Disney Fox and the Hound cartoon for inspiration as well as a resource for decorative accessories to add to your selected forest baby bedding set.
These creative decorating ideas for an animal print nursery for your baby is just the tip of the iceberg. There are many forest friends nursery themes and variations of forest theme baby bedding sets that are far more unique and creative than your average run of the mill themed nursery. These tips should inspire you to pinpoint and select wild animals that are your favorites that can be used to personalize your baby bedding and forest friends nursery to reflect your own tastes and interests.
See more pictures of this adorable, homemade mushroom stool that you can add to your nursery decorations. It even has a handy storage space inside the stem. Get the instructions tutorial!
For those who find the natural colors of the forest too subtle for their tastes, there are ways to make things more lively.
Simply add decorative flora and fauna in cute colors like mushroom lamps in shades of pastel pink, baby blue or even lavender.
Please plan to visit
Unique Baby Gear Ideas
again soon to find more enchanted forest theme,
baby girl nursery ideas
,the best
baby boy nursery ideas
PLUS a gallery of pictures featuring cute baby bedding sets and tips for decorating a baby's room filled with friendly wild animals.