Baby Nurseries with Ideas that Bring the Forest Inside
by Jan
Today we are sharing pictures of beautiful baby nurseries with ideas that bring the forest inside where the peace and atmosphere of a walk in the wilderness can be enjoyed on a daily basis. When the days grow shorter and there is a chill in the night air, thoughts of weekends spent at a log cabin in the woods surrounded by the forest and wildlife with a crackling fire in the fireplace are comforting and cozy.



Christmas vacations spent with family and friends may last a few days at best leaving us with a longing for nature.


Those of you who long to spend more time in the country may find inspiration in these pictures of baby nurseries with ideas that bring the forest inside. The moms that decorated these rooms found ways to ways to create a wood-sy atmosphere in urban locations; take a look!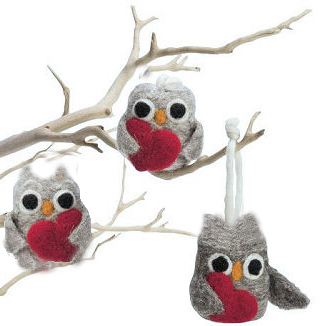 Go here to see more
forest animal ornaments that can be used to decorate a homemade tree branch mobile.
There are many decorations that you can make yourself without a trip to the crafts supply store like a baby mobile made from a tree branch.
This wall mural with an enchanted forest theme combines so many peaceful elements; the sound of a "V" of ducks in flight, the sight of a majestic whitetail deer, squirrels and a fir tree that's just the right size to decorate for the Christmas holidays.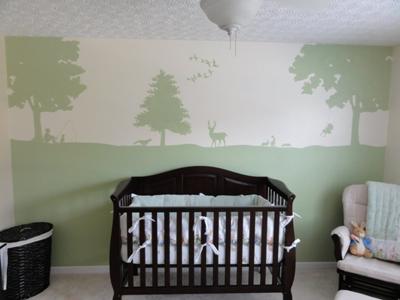 One of our crafts-savvy moms created her own tree stump stool complete with felted mushrooms for her baby boy's nursery. The storage compartment inside the stump will come in very handy.
DIY Enchanted Forest Nursery Decor
A ceiling mobile made from a tree branch with stuffed, felt forest animals dangling from the tips is a fitting decoration for over the crib or a welcome diversion over the baby's changing table that provides an opportunity to teach your future nature-lover the names of woodland creatures.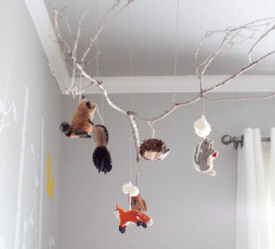 Stuffed deer, red fox and owls can be used first as ornaments for your Christmas tree during your vacation at the cabin in the woods and then added to the tree branch mobile at home.
Deer wall decals come in chic, modern styles or in cute collections that include all of their forest friends are available to quickly and inexpensively fill the need for wall decorations.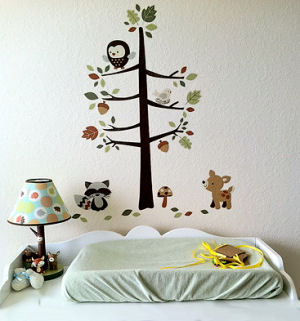 Your baby will be delighted to see these special friends smiling down until the two of you can take a real walk in the woods.