Rustic Hunting Decor, Bedding and Decorating Ideas for a Baby's Nursery
Here are some ideas for creating rustic, hunting decor in a baby's nursery. We've gone on a little hunting trip of our own to scout our possibilities for hunting theme toile fabrics and rustic baby bedding sets covered with baby forest animals, fish and white tail deer. Our decorative tips and recommendations should delight large game hunters as well as bird and duck hunters.



Visitors Who Like This Page Also Enjoyed:


Forest Friends Nursery

Baby Deer Nursery Ideas

Rustic Hunting Cabin Nursery

Camouflage Nursery Bedding and Decor Ideas



A hunter's equipment goes a long way towards providing wall decorations for hunting decor. Stuffed animal trophies never go out of style. They line the halls and walls of ancient castles as well as modern homes. You may have a difficult time explaining to your baby why he can't play with those stuffed animals, but they are lovely decorative accessories in the right setting.




SEE MORE HERE
A moose head hung over a baby boy's crib might not be an easy element of hunting decor to sell to mom, but you must admit that it would be stunning in a log cabin's rustic or hunting decor with a forest theme. Can you picture a rustic nursery with a mounted ten or twelve point buck over the headboard of baby's bed and an antler chandelier in the nursery? To complete the look I'd consider having a carpenter make a homemade rustic crib and buying a buffalo plaid crib bedding set.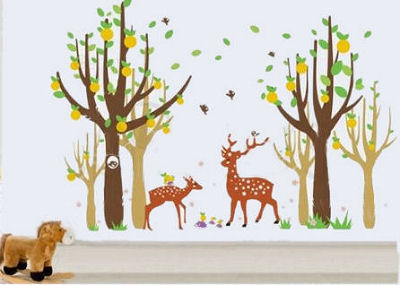 Deer Wall Decals
Most moms would prefer stuffed teddy bear motifs over grizzly bears, but how could she object if dad just happens to have a bear skin rug from his last hunting trip to use as a nursery rug? If dad his heart set on a realistic style of hunting decor for his boy, mom may as well jump on board and give her opinions on matters other than the hunting trophies like hunting theme baby fabrics and accessories.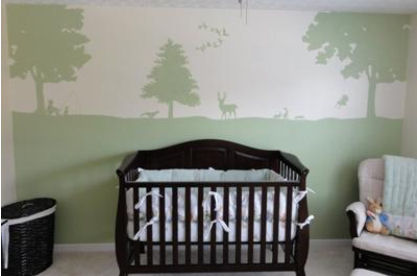 More Nursery Pictures
There are many tasteful, traditional hunting theme fabrics that would work in an elegant hunting decor. Classic toile fabrics come with many small game and hunting prints. There are pictures
Deer
Birds or doves
Ducks and turkeys
.
The color scheme of the hunting prints are neutral and will blend with stripes or plaids as well as solid print crib bedding and comforters. I would like to make the suggestion that if you are decorating the baby's room for fall or winter that you consider ultra suede or flannel fabrics to coordinate with the toile fabrics.
If you sew your own nursery decorations, your sewing machine can be shooting out a homemade set of rustic baby bedding in a flash. With a few yards of cheap hunting and fishing theme fabric you can change the upholstery on an old ottoman or make replacement cushions for the nursery glider or baby rocker and make them look as if they were originally made for use in hunting decor. If you can't find a set of baby bedding that you like, it's easy to make your own crib duvet pattern.
For a bedroom with more modern themes, the preference in hunting decor might run to one of the contemporary baby camouflage designs. There are several different styles of camo print fabrics. For the person who prefers hunting in the winter in snowy woods, white camouflage fabrics could be used for accent pillows or even a nursery window valance. Realtree, mossy oak and other camo prints are readily available in everything from draperies to shower curtains and camouflage bath towels.
Please stop by to visit us again soon to see the latest in hunting baby nursery ideas, baby bedding and decor.