Forest Baby Nursery Theme Ideas
by Jan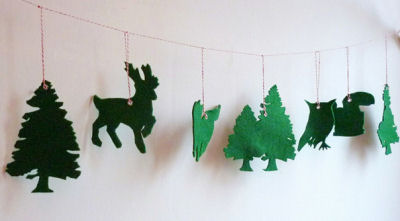 Green Felt Garland Forest Friends Baby Nursery Wall Decorations Deer Created by atelierpompadour Etsy
This cute garland holds as many forest baby nursery theme ideas as a nature walk in the woods! In fact that is exactly what the designer of this garland calls it; A Walk in the Woods Garland!

This is truly one of those moments when you want to smack yourself on the forehead and say, "Why didn't I think of that?" It's such a simple design and yet that's the beauty of it, especially for a baby nursery where large, bold shapes are the first that catch a newborn's eye.

I can picture this fun, woodland themed garland as a focal point in a baby's room with deer baby bedding or a rustic log cabin nursery displayed on a wall made of knotty pine boards.

Another bonus is that unlike many other forest baby nursery theme ideas that might take hours to complete, this sweet garland dripping with woodland creatures can be in place in a matter of minutes!


This is a website devoted to baby nursery decorating ideas, baby products and accessories so it's almost expected that I focus on the many ways that this wall decoration could be used to decorate a baby's room. However, the felt garland can also be used to decorate the mantle in your den, a shelf or to give a window treatment a festive look during the holidays. PLUS, the garland in red or white would look amazing on your Christmas tree!

The garland is handmade from hand cut felt (3 mm. thick) and the animal cut outs include 1 whitetail deer, 1 bunny rabbit, 1 squirrel, 1 fox and 3 evergreen trees attached to Baker's twine via metal eyelets.

I encourage you to visit atelierpompadour's Etsy to see many other homemade treasures that she has made that will warm your home and your heart during the cold winter months ahead!

Join in and write your own page! It's easy to do. How? Simply click here to return to FOREST THEME NURSERY PICTURES and DECORATING IDEAS.