Enchanted Forest Nursery Theme
by E Edward Rockey
(Albuquerque, NM)
The photo above shows the back wall of the baby's enchanted forest nursery theme including the crib and the rocking chair.

This was supposed to be a cute but simple project but how could fairies frolicking in the forest with woodland creatures be anything less than magical and painting a fantasy isn't simple.



We bought a quart of each primary color as well as a quart each of black and white paint.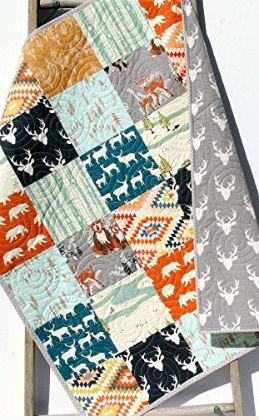 Go here to see this and many other
woodland themed baby crib bedding and quilt collections.


Then we started by drawing the plan onto the walls then went back through to fill in the details of the drawings.

Then we got started painting, mixing our colors as we went to create an enchanted forest nursery theme full of color and magic. The big tree went through many changes and growing into what it is now just as it might in a real forest. We tried to keep with the enchanted fairy theme throughout the room while adding things that our daughter could recognize in our own yard like frogs, lady bugs, butterflies and a few types of birds.

I would like to thank the many people who helped with in the construction of this room. My brother in law helped by adding detail to the drawings as well as helping with the reach in California closet that helped with the organization of the room and to make room for the baby's clothes. My sister who is a makeup artist who found out that she should be a painter after doing this room. She painted the majority of the fairies as well as the fairies pets.

My mom helped with the fairies and helped paint some of the flowers. And my wife who says that she doesn't have an artistic bone in her body even got into it and painted some of the mushrooms.

Unfortunately, just one picture of our baby nursery theme doesn't do the project justice since every wall of the room is truly its own work of art. This was the first time any of us had ever attempted something like this but we wanted to make sure that our first child had a beautiful room to lay her head where she could dream of fairies wearing boots.

From the Webmaster:
It seems that a lot of love when into decorating this whimsical fairy nursery theme for your baby girl. The colors are beautiful and the scenery makes the room seem very open and airy.

Thanks so much for sharing your pictures as well as instructions for how to decorate a nursery similar to your baby's girl's room with Unique Baby Gear Ideas.