Enchanted Forest Nursery Decor
by Jessica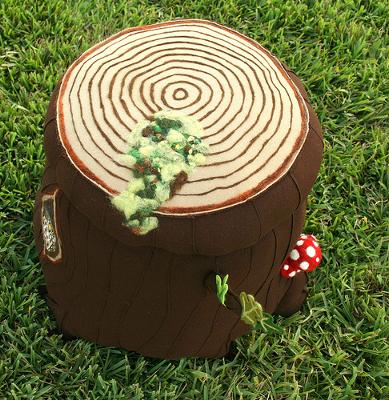 Wool Forest Theme Tree Stump Mushroom Nursery Ottoman
This tree stump storage stool tutorial will help you make your own enchanted forest nursery decor and has "easy to follow" instructions that even a beginner to the world of arts and crafts can follow. With a few crafts supplies and some time you will have a functional and decorative item that you and your child will enjoy for a long time!


This DIY crafts project is a favorite with moms and dads and we can tell you exactly how to make it and have it ready for your baby's room before delivery even if the project came your way on the spur of the moment!






Yes, she made this fabulous tree stump ottoman with the precious red and white wool mushrooms herself, on the fly!
What inspired you to create a tree stump ottoman, Jessica?
What forest themed room doesn't need a stump? I have no idea where I came up with this idea. It just occurred to me one day that I wanted to make a stump ottoman for Baby MAC's room.
Go here to see more!
. I think you will agree that this stool is cute as can be and that any child would enjoy having his or her own secret hiding place for books or small toys.
Where did you find instructions for making a tree stump ottoman?
I actually searched for instructions with no luck but then I found a post on Young House Love and saw where they had featured a small ottoman that they had found at Target. The price was so cheap that I decided to go pick one up for myself.
Necessary craft supplies for making the ottoman
I asked my Mum to pick up the large amount of wool roving and then I finally had all of my supplies in order not to mention a helper, aka my lovely mother who is exceptionally awesome and talented.
Getting to work!
We put our heads together and worked out a design. Once we had an idea of what we wanted, she started sewing the wool of the trunk and I got started on the fun part of the
forest baby nursery
decorating project!
From the webmaster:
To see more pictures of this amazing craft project and read detailed instructions on how Jessica and her Mum managed to turn a cheap Target ottoman into a work of art, please visit
Insanely Crafty Blog
! Thanks, Jessica, for sharing this incredibly cute project with us and I believe I speak for all of our visitors when I saw that we here at
Unique Baby Gear Ideas
look forward to seeing more of your arts and crafts projects that you create for Baby MAC's room!