Woodland Forest Animals Baby Nursery Theme Decorating Ideas
Our woodland forest animals baby nursery theme decorating ideas focus on bringing the peace and tranquility of nature indoors.  Woodland creatures including baby deer play an important role in this design but there is also a place in it for other animals found in the wild. 

Join us on a tour of exploration of various color schemes, ranging from earth tones to pastel with a touch of boho that will aid you in choosing one of the styles in the reveal.
Parents find that making the decision as whether to surround their newborn infant with pleasing elements of nature in a realistic or whimsical fashion is the first decision to make.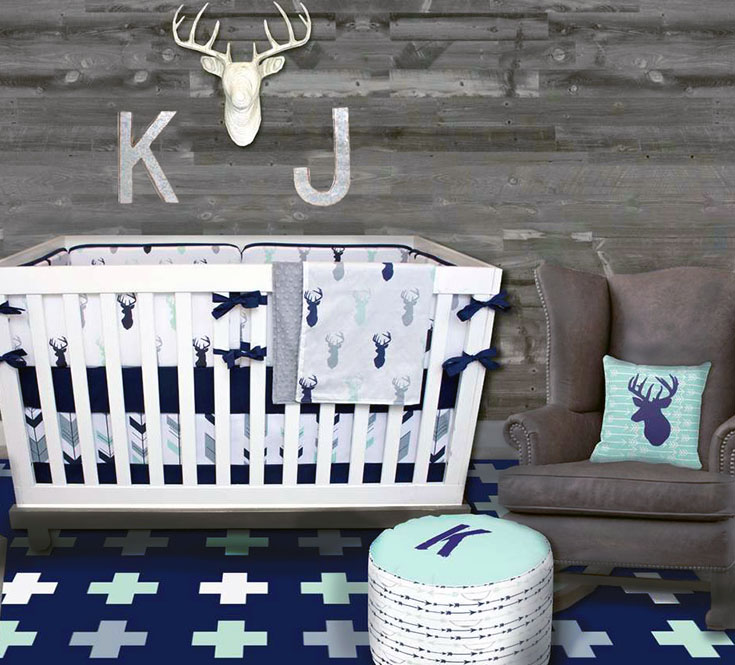 This mint green, navy blue and white deer baby bedding set and others can be found at
Modified Tot
.
The style may be reminiscent of a cozy log cabin nestled in a forest setting, but parents living in an urban setting might consider a
DIY pallet nursery wall
made from recycled wood to create the perfect rustic background.
See how to make an easy deer head wall sculpture HERE
Hunters save money on the
deer themed nursery
wall decorations with a display of their hunting trophies. Nature lovers not involved in the sport can decorate their walls by choosing whimsical, stuffed toy animals or make a faux deer head sculpture (see above tutorial) that will easily transition as their child grows.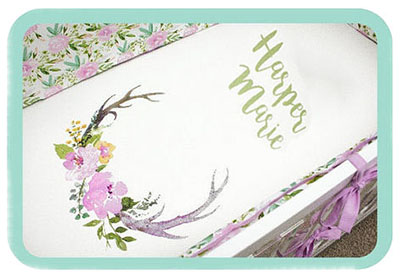 The same source that provides the masculine crib set above presents a delightfully feminine option in with a boho vibe with watercolor flowers painted as decorations for a set of deer antlers in lavender and fresh, forest green. The fitted crib sheet personalized above the funky floral arrangement with the baby girl's name is too sweet and aligns perfectly with our woodland forest animals baby nursery theme decorating ideas.
This is a space where your imagination can roam wild and free and we all know that one pretty crib sheet would simply not be enough. We also know that this gorgeous sheet would be a hard act to follow. A plain sheet would seem very lackluster and for that reason it would be worth your time to learn how to make your own crib sheet by following
this
tutorial and then go
here
to see how EASY it will be to personalize a crib sheet with your baby's name and your original painting of scenes from nature.
Putting a modern twist on classic forest
baby nursery themes
is on trend. One way to do this is to embellish mint green deer print fabric with metallic gold dots and pair it with a variety of fabrics featuring geometric patterns.
Please stay tuned to
Unique Baby Gear Ideas
to see more nursery room tours where we reveal the professional decorating ideas and secrets to help you with your project.