Wynn Charlotte's Mountain Meadow Nursery Theme
by Jan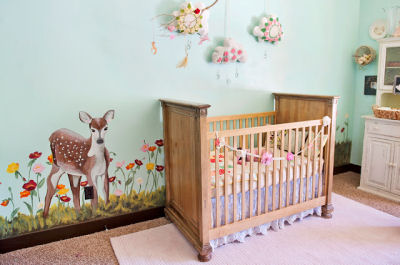 This baby girl's vintage mountain meadow nursery theme includes an original mural featuring a whitetail deer fawn and flowers painted by her aunt and mother.
Wynn Charlotte's Mom, Cate, says that she's not really sure where the decorating ideas for her little girl's mountain meadow nursery theme came from. The family does live in the mountains where beautiful flowers and deer are a familiar site but she says that the primary inspiration was a yellow rocking chair that her husband bought for her.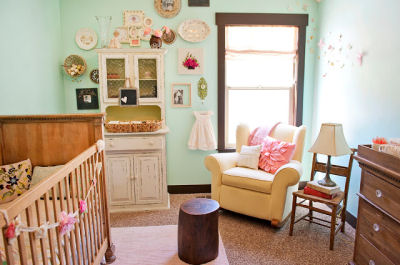 Deer Baby Nursery Bedding and Decorating Ideas
This purchase not only set the tone as well as the theme for their
baby girl's nursery
; it's the reason that the walls are Robin's Nest blue rather than the previously selected Sunrise Pink. Once the paint color was changed, Cate introduced touches of girly pink through the decor along as well as some "woodsy" elements like the rustic, tree stump footstool to balance the blue of the walls.
Go here to see
many sweetly unique enchanted forest themed wall decorations and arrangements for your project.
The shabby chic style changing table is surrounded by an eclectic blend of glassware, vintage baby clothing, recycled architectural pieces and an old-fashioned basket filled with (what appears to be) eggs fresh from the hen house. Many of the decorations and furnishings that fill the
forest friends nursery
were collected during years of thrifting.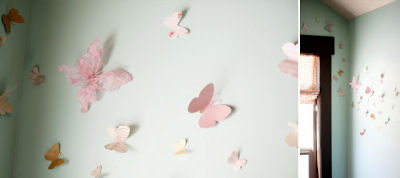 A scattering of butterflies opposite the arrangement of precious, thrift store finds as well as a throw pillow add pops of pink that accent the blue of the nursery walls.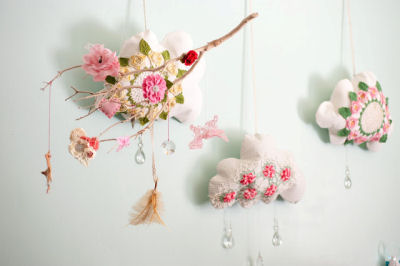 The handmade clouds of the mobile over Wynn Charlotte's crib that have been embellished with crystal "raindrops" and delicate floral details were sewn by her mother, her grandmother and Candi.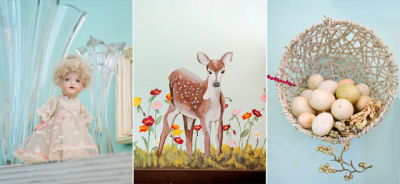 The baby deer nursery mural was painted by a very talented aunt with help from Mom with the flowers.
Now, for the most important photo of all, the little lady taking a nap in the rocker that inspired the design of her very first room.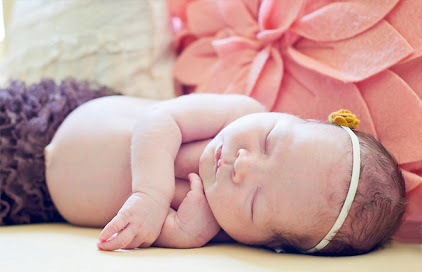 The words "pregnancy apnea" have brought fear to the hearts of many pregnant women (as well as my own). Sleeplessness is not a welcome visitor at any time much less when you are expecting and need your beauty rest. However, after learning that many of the features of Wynn Charlotte's mountain meadow
nursery theme
were the result of her mother waking from a sound sleep with an idea; I can see the upside of the condition! Kudos to Cate for her ingenuity.
To get shopping resources and to see more baby and nursery pictures, please visit Cate's blog,
With a Touch of Pretty (this url appears to be non-functional) and thanks, as always, for visiting
Unique Baby Gear Ideas
.
Shopping resources for new items used in the creation of this beautiful nursery
Crib and changing table:
Restoration Hardware
Changing pad:
Land of Nod
Crystal changing table knobs
Urban Outfitters
Pink nursery rug:
Restoration Hardware
Mobile tree branch:
TJ Maxx
Tree stump foot stool:
TJ Maxx