Under the Stars Theme Nursery
by Jan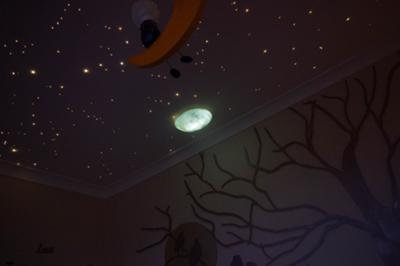 Under the stars theme baby nursery ceiling featuring a realistic view of a night sky created with Starscape fiber optic lights
Parents will love the idea of an under the stars theme nursery ideas if they have an interest in astronomy, astrology or the just enjoy spending time outdoors at night gazing at the moon and stars. With Starscape's fiber optic lighting kits; their chances of re-creating the experience indoors just got a whole lot better.


Usually, when a mother-to-be indicates that she's interested in a moon and stars baby nursery theme I would suggest that she come back to see me after finding a set of baby bedding with stars so that I would have an idea of the colors I would be working with. Needless to say, that may change given that this "night under the stars" theme has become more elegant and authentic.

As you can see, this style of stars nursery theme is very subtle and sophisticated. Bright colors would be an intrusion into such an ethereal atmosphere.
Most parents that have bought these kits just want some lights that twinkle and cast a peaceful, understated glow in their baby's room but the dad, Alec, that designed the nursery ceiling pictured at the top of the page put a lot of work into his design creating an accurate night sky representation that required the installation of more than 600 optical fibres.
He used tape to create a grid so that he could accurately map out the position of the constellations and made sure that there were variations in the intensity of the stars to create the illusion of depth. At first this sounded like a very complicated and difficult process but then I learned that all it takes is a tiny dab with a black or blue felt tip on the end of a fibre to reduce the light's output. Easy peasy! Even I could do that!
But determined to achieve a high level of accuracy, Alec took a different approach recommended for larger installations where two or more light sources are fitted with bulbs of different wattage so that they can produce different light levels and customized Simply put, one bulb is brighter than the other just like stars! Even at that, he customized the process with his own unique filtering system.
All of the work he put into the room's ceiling is impressive to say the very least. Baby Addison's under the
stars theme nursery
is something that dad can be very proud of and enjoy with his child for many years to come.
For more views of this gorgeous star theme ceiling technique, please visit
Starscape
and please visit us again soon to see more star themed
baby nursery ideas
.