Included in the moon and stars nursery ideas that we have for you on this page are woodworking projects for those of you with that particular skill set as well as less labor intensive projects. This design is absolutely stunning. The moment I saw it I felt the love the parents felt for their baby all the way to the moon and back and I think that you will feel the same.
A bonus that came to my attention was that our visitors can easily achieve similar results regardless of their budget. For instance, the homemade crib canopy with careful planning and a "can do" spirit could be done on the cheap.
Sparkling lights and tissue paper pom poms decorate the rustic crib canopy made of tree branches and can be created for very little money.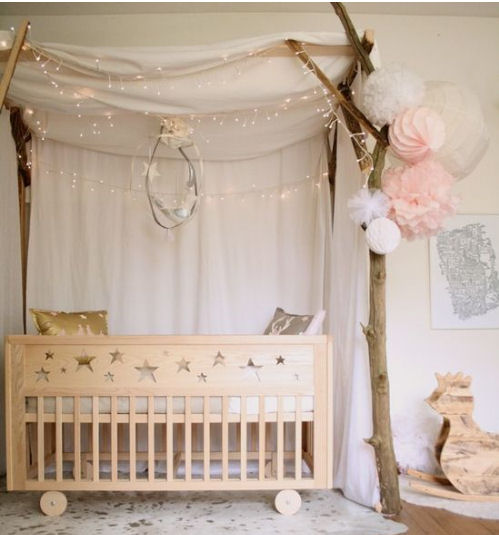 Woodworkers will be looking for baby crib plans
to duplicate this lovely crib with star cut outs and wooden wheels.
The wooden rocker to the side is an added feature that has nothing to do with heavenly bodies but there is no denying it fits well with the style of the room and reflects the understated
shabby chic
, French atmosphere of the country where this decorating project originated.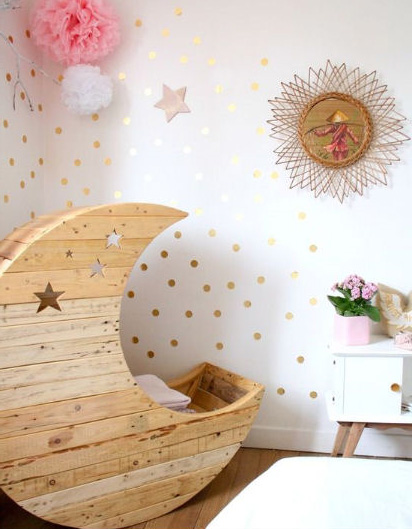 The crescent moon shaped cradle features the same star shaped cutouts and theme as the crib and could be made from reclaimed pallet wood in a pinch saving 100s of dollars.
Gold metallic wallpaper with polka dots and sun themed wall decorations are some of the moon and stars nursery ideas that can easily be managed by those without woodworking skills. There are golden polka dot wall decals that can be applied over existing wall paint if hanging wallpaper is beyond your capabilities. Decals are removable, reusable and will not damage the painted surface making them perfect for apartment dwellers.
Even the baby's nursery armoire features a charming star themed style.
The
cow hide rug
is the "something unexpected" feature of the room.
The pink bird of the crib mobile and the blush color of the tissue paper pompoms have transformed a traditional
gender neutral
design into a charming
baby girl nursery
.
I hope that the tour of this nursery decorating project will inspire our visiting moms and dads to reach for the stars when designing the room where their child will spend his or her first few years and to visit
Unique Baby Gear Ideas
to upload pictures of their projects when they are completed.