Star Nursery Ceiling Lights of a Different Kind for the Baby's Room
by Jan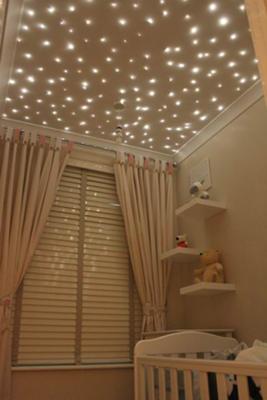 Stars twinkle on the ceiling of this baby nursery putting a twist on the traditional moon and stars nursery theme.
Picture soft, dreamy, twinkling star nursery ceiling lights that fill your baby's moon and stars nursery theme, or any room in your home, with lighting that is both modern and exciting!


As you can see, the fiber optic stars twinkle on the ceiling in an elegant, understated manner that requires no painting, no "glow in the dark" decals or holiday lights.




See how twinkling lights add romance and an atmosphere of tranquility to your child's room.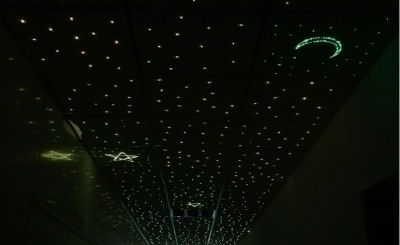 Go here to get everything you need for installation
of your own DIY fiber optic ceiling lights in one very, very affordable kit!
The brightness of the ceiling lights in the nursery pictures has been greatly enhanced to give us an idea of the dramatic effect. The actual effect is a beautiful glow that provides just the right amount of light to sit and rock your little one while enjoying the surroundings.
Through the installation of fiber optic ceiling lights, your baby can enjoy the experience of sleeping under the stars at a very early age.
These lights come in a kit and are perfect for recreating the experience of sleeping out of doors which is nice for those of us who prefer a soft bed to the hard ground with nothing but a sleeping bag as a cushion. They are lovely in kids' rooms but they can also be used in other areas of the home, both indoors and out.
This lovely, new version of star
nursery ceiling lights
that we see in the above photo comes to us via
Starscape
, a company in the UK that specializes in fiber optic as well as LED lighting.
As you can see, even a dusting of little clusters of stars makes a lovely celestial display.
As tempting as it would be to install enough "stars" to replicate the Milky Way, too many stars would detract rather than add to the decor. This appears to be one of those situations where a little goes a long way.
A light distribution of lights on a sloped nursery ceiling gives the illusion of being wrapped in the glow of twinkling stars.
The beauty is that during the day, just as in nature, the lights more or less disappear. The tiny holes that may be visible are nothing compared to the unattractive cords and electrical wires that must be dealt with using other twinkle lighting methods.
Actually, the days of stringing strands of clear, Christmas lights to get a similar effect may soon be behind us. Starscape indicated to me that they are gearing up to offer 110 volt light sources so as to be able to supply light kits to customers in the United States!
I can't wait for these star ceiling lights to reach our side of the Atlantic! They will undoubtedly inspire many visitors that stop by
Unique Baby Gear Ideas
to experiment with them in their homes far beyond the kids' rooms.