Moon and Stars Baby Theme with a Sesame Street Influence
by Jessica Warble
(Cayce, SC)
One of the Sesame Street skits from the 1980s was the inspiration for my moon and stars baby theme. The skit was from the program that featured Ernie called "I Don't Want to Live on the Moon".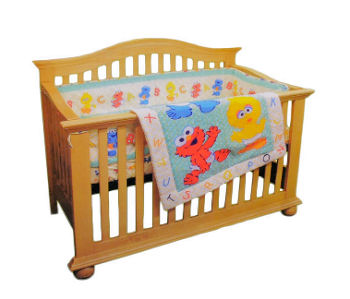 Go here to see more
Sesame baby bedding sets and items featuring your favorite characters like Bert, Ernie, Cookie Monsters and the rest of the crew that will bring lots of color and fun to your baby's room.

The walls of our baby's room are painted pale, celery green and the wood trim around the windows is painted in contrasting white. I knew that my main wall decoration would be a mural of Ernie sitting on the moon.
My brother and a friend projected an image of Ernie's head on the wall, traced it, and then free handed the rest of Ernie that you see dressed and ready to go to sleep dressed in his green pajamas on a background of periwinkle blue, surrounded by stars in different sizes that provided the groundwork for the
moon and stars baby theme
segment of the room's decor.
The Sesame Street wall plaques on the opposite wall were hung in order to keep a balance in the number of moon and star decorations and Sesame Street items. Then to soften the shape of the wall arrangement we surrounded the framed pictures with colorful wall letters and numbers.
The wood of the baby's crib is stained in a dark color to match the overhead light fixture and ceiling fan combination. The Sesame Street baby bedding set has a variety of colors that brightens the dark wood of the crib including yellow, red and a similar shade of green to the one we used on the walls.