Modern Nursery Decorating Ideas for Baby Boys and Girls
Some mothers feel that to achieve the ultimate modern nursery that even the slightest whisper of traditional decor must be omitted. Once, when decorating a modern baby nursery the mother-to-be said that I could have a free hand in color and decor except that nothing in the room was to look "OLD".


But lately, the decorating trend has been to blend modern and vintage. For example, a friend recently decorated her baby girl's room in a style that she calls modern Victorian. You might wonder how that is possible (as did I) but this determined lady made it happen and it looks amazing.
There is no limit to what a mom-to-be on a mission can do and if you don't believe me, just take a look at some of the pictures below and you will see exactly what I mean.
Visitors Decorating a Modern Baby Nursery Also Enjoyed these Pages:
Modern Nursery Bedding
Black Modern Baby Bedding
To decorate a modern nursery with this objective is certainly within range of my decorating capabilities. But I find it sad that a large number of infants will not have the enjoyment of surroundings filled with playful images just because they gone out of style or are considered to be old fashioned. My thoughts are that it is possible to give the baby nursery themes a new look rather than discard them altogether.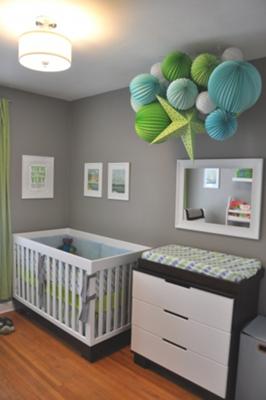 Modern Baby Boy Nursery
It's my opinion that today's nurseries can still benefit from the decorations that have served generation after generation that have been updated to the latest versions of modern nursery décor. It will never be a good idea to reinvent Beatrix Potter and Peter Rabbit into contemporary versions of themselves. But there would be nothing to prevent other bunny rabbits, elephants and monkeys from getting a trendy makeover.



Modern Khaki Black and White Baby Boy Nursery




Modern Unisex Nursery Ideas




Modern Anthropologie Inspired Nursery




Modern Lime Green and White Baby Nursery




Modern Airplane Nursery




Modern Pink and Gray Nursery




Modern Gray and White Nursery




Modern Jungle Baby Nursery
MODERN BABY NURSERY COLORS
The decorating rule of thumb is that, well, there is no rule of thumb. Pretty much anything goes as far as acceptable colors are concerned from modern crib bedding that is as far from toile as it gets to using modern girl's baby bedding in shades of blue and, shockingly, pink and brown in a baby boy's nursery. Decorators may steer their clients away from your mother's idea of baby pink and blue in lieu of the new improved versions that are so chic and stylish.
MODERN NURSERY
When it comes to accent pieces and decorations think bright, colorful and sleek. If your lifelong dream for your baby girl's room includes pictures of a nursery decked out with yards of lace, ruffles and lots of big satin bows, our modern baby nursery decorating ideas will undoubtedly be disappointing and fall short of your goal. For that matter you probably will not see many choo choo trains and teddy bears used in a modern baby boy's nursery. In contemporary nursery design everything is streamlined with no wasted movement or space.
MODERN BABY NURSERY FURNITURE
Sad as it is, to get the look of today means that you must forego feeling sentimental about Granny's antique rocking chair. Savvy moms that have precious little time to clean and polish intricately carved wooden furniture soothe their babies in a modern nursery glider rocker that is ergonomically designed to be both compact and comfortable. Babies don't keep, who would want to waste time dusting when they can be rocking a sweet baby?
It is a fact that modern nursery decorating ideas may not leave much room for sentiment or for tradition. The modern nursery is about saving time and space. And mothers who feel that they are pressed for both consider modern nursery design to be a blessing.
Return to Unique Baby Gear Ideas to see more examples of how to decorate a modern room for your child and to see more pictures of the latest baby room designs and decor shared by real moms. Don't Miss These Modern Baby Nurseries


Modern Country French Baby Nursery
SHARE IDEAS - PICTURES of YOUR NURSERY
Do you have a great set of baby bedding or a picture of a nursery that you decorated? Share it!
NURSERY DECORATING IDEAS, PICTURES and DECORATING IDEAS
Click below to see the latest vintage theme bedding and nursery decor.