Zoey's Fun Modern Nursery
by Jan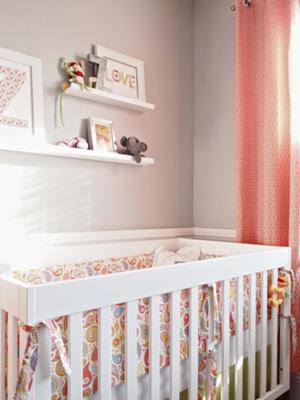 Our Baby Girl, Zoey's, Fun Modern Nursery Decor
I am excited to be sharing pictures of Zoey's fun, modern nursery that has been decorated just for her. Jessie busy putting the house on the market this week, working on her new blog and (of course) enjoying her new baby.


In spite of working on a tight schedule, shopping resources for many decorative aspects of Zoey's room as well as nursery pictures that are sure to inspire you to step out there and find your own decorating style are included.



You will be amazed to learn how easily everything fell into place after we made one key decision so keep reading!
Go here to see more
What Was the Primary Inspiration for Zoey's Room Design?
We were aware that decorating a baby girl's nursery requires many yards of fabric. For this reason, making a fabric selection was where we got started. After looking at many beautiful fabrics, we finally chose a fabric with shades of coral, lime green and light blue that we found at Spoonflower.
Is Zoey's Nursery Indicative of Your Personal Decorating Style?
I've been searching for the answer to that question for as long as I can remember. My taste varies from space to space but leans toward uncluttered designs with clean lines. I was exposed to many, different decorating styles in design school and have never found it possible to settle on just one. As an example, the decor in my current home ranges from rustic to industrial and modern.
What is YOUR Favorite Feature in Zoey's Nursery?
I suppose that would be the wall that we decorated with an arrangement of framed fabric since, as I mentioned before, we simply fell in love with the fabric. Gathering the frames and filling them with fabric was a lot of fun.
Are there any words of advice that you can offer to moms about to decorate a nursery for the first time?
Have fun designing the nursery but think ahead! The baby stage only lasts a short while.
So, make choices that will leave room for growth. Choose pieces and decorations that you love and focus less on coordination of colors and fabric. This approach will achieve results that will be visually pleasing and make smile every time you enter the room.
SHOPPING RESOURCES for ZOEY'S FUN, MODERN NURSERY DESIGNPAINT COLORGray Nursery Paint Color:
Benjamin Moore, Stonington Gray HC-170. Gray is a perfect neutral that accentuates every other color in a room!
NURSERY FURNISHINGSZoey's Crib:
Babyletto Modo Crib from Babies R Us - $379.00
Nursery Glider & Ottoman:
Babies R Us Graco Avalon Glider & Ottoman - $220.00
Baby Dresser:
Ikea, Expedit Bookcase - $69.99
Dresser Double Drawers:
Ikea, Expedit Insert with 2 Drawers - $35.00
Dresser Single Drawers:
Ikea, Expedit Insert Single Drawer (no longer available) – $35.00
Coral Pulls:
Anthropologie, Granita Dresser Knob – $6.00
Dresser Legs:
Ikea, 4 pack Capita Legs – $10.00
5 x 7 Shag Rug:
Cost Plus World Market,Area Rug - $229. The shag rug will be so soft and fun for Zoey when she starts crawling!
BABY BEDDING and NURSERY WINDOW TREATMENTSBaby Bedding and Curtain Panels:
made by RockyTop Design
FABRIC SELECTIONSBumper Fabric:
Spoonflower's Heather Dutton, Power Paisley – $/yard
Crib Skirt
Spoonflower's Heather Dutton, Kelp Dot Green
Curtain Panels Fabric:
Spoonflower's Heather Dutton, Barnacle Net Coral Colorway – $/yard
Changing Pad Cover Fabric:
Spoonflower's Heather Dutton, Rockweed Coral Colorway
Framed Fabric:
Spoonflower's Heather Dutton, Collection
DECORATIONSLove Print:
Made By Girl, Love Pattern Art Print Price: $9.50
The Framed Letter
was Homemade
The Letter "Z":
Anthropologie, Zinc Letters – $18.00
Crochet Elephant –
Etsy's Five Sisterz, Elliot the Elephant – $14.00. I love to see homemade touches in a baby's nursery and since I don't crochet we shopped for items in Etsy stores!
Duck Print –
Ikea, 5-pack Kort Art Cards – $5.00
Galvanized Tin Tub:
- $20.00
Galvanized Storage Bins:
Lowes, Galvanized Bin – $10.00
MISCELLANEOUSGreen Lamp:
Home Goods, Not available Online - $30.00
Frames:
Home Goods and Thrift Stores. A little spray paint can do amazing things!
Blinds:
Faux Wood Blinds – $29.00
Frame Ledges:
Ikea, Picture Ledge – $10 - $15
Thank you, Jessie, for sharing pictures that you put to work for you while decorating Zoey's lovely room with
Unique Baby Gear Ideas
.
Our visitors can see more of Jessie's amazing work on her blog
Cape 27
.