ABSTRACT MODERN NURSERY DESIGN
by Leon
(Dallas,Tx)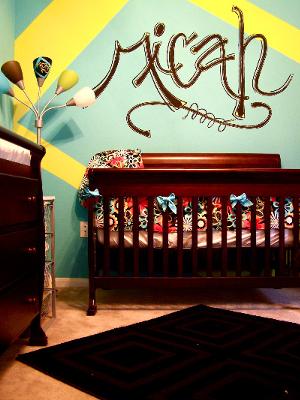 Modern abstract teal blue and lime green nursery with a twist!
Some of you may think we went wild with this abstract modern nursery design but we absolutely love it. The project began with the application of a base coat of aqua (or turquoise?) blue color that we painted on two of the walls.


I taped off a mosaic square on the main wall that spans the length of the room.



I painted the aqua blue thoughout the rest of the wall then I removed the tape and filled it in with a lime green color paint. Then I hand painted a mural with my baby's name right in the middle of the square.
Boy Nursery PicturesTHE PERFECT FABRIC for OUR ABSTRACT MODERN NURSERY DESIGN
We picked out custom fabric at a store called High Fashion Fabrics in Houston Texas and had a seamstress stitch his blanket, bumper and curtains and we also had two pillows made.
The belly cast over the changing table was more my idea. I told my wife that I would like to make a belly cast of her belly. About 35 hours later I finished it and it was ready to decorate the nursery wall.
We found the a cheap throw rug at Target and also ordered his baby bed and changing table from there.
To add the finishing touch to the room, my wife and I put our handprints on the wall and signed them.
You can see more on how our abstract modern nursery design was made on our video blog on youtube just search for
reyesfamilyblog
and check it out.
From the webmaster:
Micah's nursery has an edgy modern feel and if I might say so, that is the absolute PERFECT floor lamp for this room! I love the bright colors and the way that you painted Micah's name and used the belly cast and handprints (thanks to mom, dad and Coco the puppy dog) to add some very unique personal touches.
Your creative choice of colors should make your baby boy's room a favorite with
Unique Baby Gear Ideas
' visitors!