Modern Baby Boy Nursery
by Jessica
The excitement about the tour of this modern baby boy nursery design by Jessica Flannigan has been building for months. As you can see, the nursery is decorated and ready for the baby that is due to arrive in the latter part of April.


This busy mom is a blogger as well as a genius with DIY and crafts projects.



See more modern baby boy nursery pictures with decorations to make yourself in our photo gallery.
My favorite of all the items that she made for her son's room is the ceiling mobile.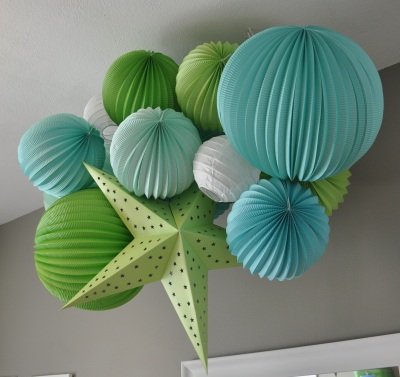 See what you need to make it here
Even large paper lanterns are really cheap and can be re-purposed after having been used as party or baby shower decorations for added cost efficiency.

How to make a paper lantern nursery ceiling mobile.
Let's get to know the obviously talented expectant mother-to-be a little better.
Jessica is the freelance writer behind the blog
Live the Fancy Life
and is expecting the arrival of a baby boy, Jessica is a lady with an eye for color among many talents and we appreciate her walking us through the decorating process.
Q
Did you have an idea of the look or the
nursery theme
that you wanted from the beginning or did you make decisions as you went?
Q
Did you have any problems finding a baby bedding set that reflected your chosen color scheme?
A
Rather than being an issue to be dealt with, the crib set helped to focus the color scheme. I wanted the palette to be subtle and not to include a wide variety of colors. The fabric of the bedding worked as a guide. We had the crib set custom made on Etsy by Nursery Dreams. The bedding is beyond perfect and our experience with Nursery Dreams was a positive one.
Q
I notice the names of certain cities displayed in several framed pieces. Is there a story behind the artwork or did your selection just have to do with color and design?
A
The style of the city art works with our vision for the space but we had the art designed by Lisa Barbero to give our baby boy an early view of places that have meaning to us. My husband grew up in Austin, Texas but his parents are from Kandy, Sri Lanka and my hometown is a small rural Minnesota town called Benson and we now live in Minneapolis. To create the personalized artwork Lisa took pictures of our hometowns and designed the four prints just for us.
We wanted a modern look with clean lines and a neutral wall color accented with pops of color throughout the space from the moment we found out we were expecting.
We were working with a small area and our goal was to create a clutter-free space filled with color and light. We used white to keep things airy and a gray wall color as a calming influence contributing to our desire for a peaceful atmosphere.
Q
Could you tell us about the paper lantern and star cluster that you created instead of a crib mobile?
A
I made the paper lantern cluster for visual interest to carry the eye upward. But the main reason for the location of the decoration was to give the baby something interesting within his line of vision from the changing area to the rocking chair. The piece adds a pop of color and a "WOW" factor to the room. This is one of our favorite items in the room and I hope that our little guy finds it as attractive as we do.
Q
Books obviously play an important role in your baby boy's modern nursery design. Are there any special titles here that you can tell us about?
A
The bookshelf is a special piece that was made for me by my colleagues. Each of the guests at my recent baby shower brought a book that contributed to the baby's library. The colorful jackets attract the attention of every child that visits. Even my friend's child, that is only a year old, was immediately drawn to the bookshelf and it was great to see how excited my 5-year-old cousin was to see all those books. We now have 52 books on the shelves and I can't wait to start reading them to the baby.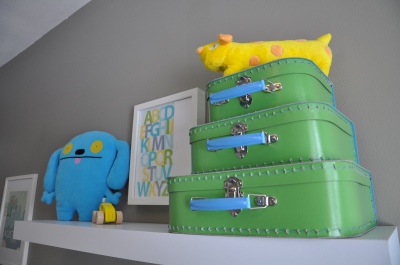 Q
Do you have any tips or specific modern nursery ideas that you can share with others visiting
Unique Baby Gear Ideas
that are just getting started?
A
Start shopping for the perfect nursery rocker or glider early! Our original plans were to buy a modern glider but after trying one after the other, we decided that they were too uncomfortable for what they cost.
Set a budget and shop sales whenever possible. We worked out a budget early in the process and by making some compromises and sale shopping we were able to stick to it. As an example, instead of a more expensive (and less comfortable) rocker, we found our chair at Ikea that was actually less than the amount we had budgeted. We spent less than we had planned and got a great chair.
My last tip would be to shop on Etsy for those one-of-a-kind items that do so much to personalize a space. All of the artwork that you see in our nursery photos came from Etsy and I picked up lots of nursery decorating ideas while shopping there. Every one of the sellers that we worked was more than willing to customize items in their stores to suit our needs for a very cheap price.
From the webmaster:
Jessica's generosity does not end with sharing her modern baby boy nursery decorating ideas; she has provided shopping resources for many of the items that went into the creation of yet to be born baby's room.
ARTWORK
City artwork: Lisa Barbero on Etsy
ABC's print: Apple Blossom Prints on Etsy.
Sleepy art print: Sycamore Street Press on Etsy.
CRIB SET, etc.
Custom baby bedding and changing table pad cover:
Nursery Dreams on Etsy, cost $279
Furniture:
Crib and changing table: $788
Ikea Poang chair in white: $169
Mimic cube side table from Crate and Barrel: $79
Decorative Nursery Accessories:
Small zinnia closet door pull in aqua: Anthropologie $6 per pull
Lime green organizing and storage bin: Target $12.99 each
White framed mirror: Target $26
White hanging wall shelf: Target $26
Vintage style green suitcases: Land of Nod $19 a set
Ugly baby doll: Minneapolis Pacifier Stores $15
Nursery Window Treatments
Nursery curtains: Target $18.99 per set
White faux wood blinds: Home Depot $29.99
Lighting Resources
Nursery Lamp: Home Goods (not available online)
Drum light fixture: Lowe's Home Center $59
The Paper Lantern Cluster
Round hanging paper lanterns: Martha Stewart lanterns
White and star shaped lanterns: The Paper Lantern Store
Total cost for the ceiling decoration was $26 including ceiling hooks and fishing line.