MODERN GRAY and WHITE NURSERY
by Angela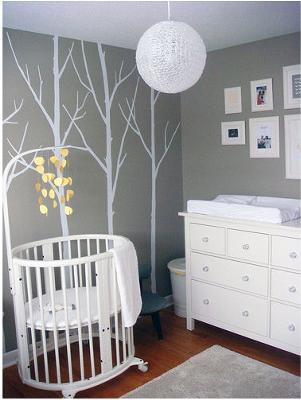 Fresh, Modern Nursery with Clean Lines
My goal was to keep the style in my baby's modern gray and white nursery clean and fresh while keeping true to the form following function rule of good design. I also wanted the nursery's decor to blend and flow with the rest of our home so I chose to keep it simple and neutral.


To accomplish this I layered textures and fabrics and bought furniture pieces that could later be used in different rooms of the house or updated for our little one in years to come.



There are new items as well as items that we used that are leftovers from when we were children.
Go here to see more
THE NURSERY FURNITURE
Little details that have special significance to our family were worked into the nursery's design like the beagle silhouette outline is sewed on a little pillow to represent our dog Willy.
We chose to buy a Stokke crib because in its smallest configuration we could use it as a bassinet in our bedroom and then convert it into a larger size when the baby sleeps in his own room. The style of the crib is exactly what I need in the modern gray and white nursery and I also liked that it has casters and can be easily moved around.
I made the baby's bedding myself from simple, soft white cotton fabric that I bought at the local fabric store. I even made my own pattern using the mattress as a pattern. This was a great way to keep costs down since oval shaped bedding is not cheap.
In addition to the white fabric used in the crib bedding two main fabrics are used throughout the space, a black and white houndstooth fabric and Metro Living Circles in gray by Robert Kaufman. I bought inexpensive containers to use as diaper changing caddies and recovered them with the houndstooth fabric.
The little chair was passed down from my father, to me and my sister and now down to my baby boy. I stained the wood chocolate brown and recovered it with houndstooth fabric.
I made the crib mobile using some lightweight wire, thread and buttery yellow paper.
I made a paper stencil in the shape that I needed and traced it on the paper. Then I cut out a bunch and glued thread between 2 of the shapes. I strung 3 or 4 of the paper cutouts at varying heights on each thread. I used the wire to make a circular base and slid the thread with the shapes onto it.
THE MODERN GRAY and WHITE NURSERY WALLS
We painted the walls using a
Ralph Lauren paint in a color called "Hopsack" and used Behr Polar Bear as the trim color.
I ordered the
large tree nursery wall decals
with bare branches online and even though they were so tall, they were surprisingly easy to put up.
I created most of the framed artwork that you see in the picture myself. I found free fonts that I could download online and through trial and error I came up with some stuff we really liked.
As you can see, I stuck with the same color scheme, grays, browns and yellows, throughout. In the wall arrangement you will find a copy of the ultrasound, family pictures and a lovely shower card that I received from a close friend. There are some place holders in there that will have to be changed out once the baby is born (the footprints and the birth announcement!).
One of patterns in the frame is eerily similar to a crazy bathroom tile we had in our previous home. Just little fun things that make the space a connection to our past and present.
The whole frame wall concept is that I will be able to change out the pictures as time goes on.
NURSERY DECORATIONS
The light fixture is the Vibe pendant from Zone Maison.
The carpet (Adum), bookshelf ( Expedit) white picture frames (Virserum), chair (Klappsta) and dresser (Hemnes) are all from Ikea. One of my favorite things we did was replace the knobs on the dresser with vintage glass knobs.
The ladder/blanket storage was an easy DIY project made of wood 2x2's that were then stained. I hung the blankets on the different rungs for easy access and to add visual interest.
The little tv table beside the crib has been kicking around our home for years but with a fresh coat of glossy white paint and a dark tray on top give it now has a an updated look more in keeping with the style of our
modern gray and white nursery
.
From the webmaster:
Angela, you have been one busy lady! Your modern nursery ideas are fabulous and your "do-it-yourself" success is proof positive that parents that visit
Unique Baby Gear Ideas
can save money by doing some sewing and making some of the nursery decorations themselves! Thanks so much for sharing your amazing nursery pictures and if you have time, we would love to see some pictures of the nursery with baby in residence when he arrives!
All the best to you and your family.
Jan