Modern Lime Green and White Nursery
by Robyn
(Chadds Ford, PA, USA)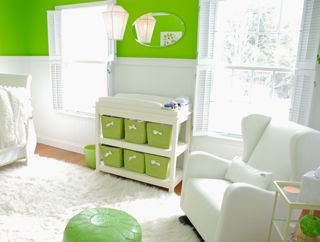 Sublime Modern Lime Green and Nursery- A Modern Nest for Our Baby
The modern lime green and white nursery that we designed was the result of our wish for a sophisticated, gender neutral space for our soon to be born baby.


As most of the room was white, we felt the need for a modern pop of color. As you can see from our nursery pictures we chose a Granny Smith apple or lime green color for the walls.


The decor that we have chosen for the project is nature inspired.




To make it look fresh and new (like our little one), we chose a high gloss paint that reflects the room's natural light keeping the space airy and light.
SEE MORE HERE
To add to the natural lighting, there is a hanging lamp above the baby's antique white changing table, a bright white and a silver standing floor lamp.
Wainscoting for the walls was a must! We painted the wooden panels using bright, clean, white paint. We then added crown molding and shiny, warm hardwood flooring.
After the wainscoting was installed we moved forward and purchased accessories, we wanted to mix all shades of white including items in off-white, ecru, bright white in many textures and the antique white of the baby's crib. Our focal point was the luxurious, white flokati nursery rug.
The antique white baby crib is adorned with modern, chic linens - a splurge from Serena and Lilly in white and pale green fabric. For layering, we draped a popcorn stitch, puckered blanket from Ikea over the side of the baby's bed. Over the crib there is a sweet (but modern) white and grey bunny mobile.
There is a white wingback glider, accompanied by a funky, lime green moroccan pouf ottoman. We chose a minimalist style for the nursery window treatments and opted for white shutters.
We finished decorating the baby's modern lime green and white nursery with artwork that repeated the bright, modern colors from Etsy. I believe that this is the point where the room came together! We love this room and everyone who sees it comments on how sleek and stylish it is. It was really simple to decorate and, with a little elbow work and shopping around, it was actually pretty affordable! Give it a try!
From the webmaster:
Robyn, your nursery's colors really brightened my day! Thanks so much for entering our baby nursery photo contest and I know that your sublime, modern nursery is going to be a big hit with moms that visit
Unique Baby Gear Ideas
to find the latest in modern nursery designs.