Mia's Modern Nursery
by Johanna McShan
(Austin, TX)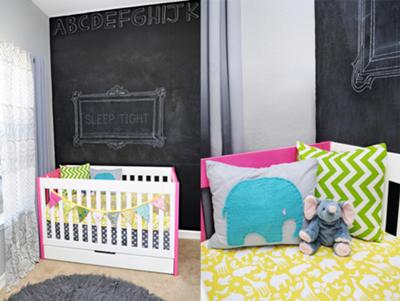 Baby Girl Modern Nursery Decorated with Gray Walls, Bright Yellow Teal Blue and Green and Chalkboard Walls
Our decorating inspiration for Mia's modern nursery design originated from the July Anthropologie Catalog! The colors we used in decorating our baby girl's nursery are gray, hot pink, white, teal green and yellow.


SEE MORE HERE
Wall Paint Color: Gray
Baby Crib: White sides with hot pink headboard
Crib Sheets: Yellow and white elephant print
Crib Skirt: Charcoal gray and white
Changing Table: Teal
Chest: Gray
Nursery Glider Rocker: White upholstery with Teal Cushion
Accent Pillows: Teal, green, yellow, gray and white
Bench Seat Cushion: Teal
Nursery Area Rug: Gray
In addition to the
baby nursery ideas
for Mia's
Modern Nursery
from Anthropologie I also frequented ohdeedoh and the buymodernbaby blog to pick up
baby nursery ideas
.
I bought all of the paint from Sherwin Williams but mixed my own paint colors for the nursery walls and painted each of the birds on the walls myself.
I bought a set of custom baby bedding from an Etsy seller and the white and hot pink baby crib is the Babyletto Mercer Crib that I found on Amazon. I found most of the other nursery furniture while visiting antique shops looking for items to refurbish for Mia's modern nursery.
I ordered the curtain panels online and the shag area rug from Overstock.com. The various decorative accessories were ordered from Anthropologie, West Elm and all of the handmade items came from Etsy.
Mia's Modern Baby Nursery took 5 months to complete. My husband and parents pitched in to help paint the furniture and chalkboard wall but I did the rest. Decorating our baby girl's room was SO fun but it was difficult at times because I am very particular. The best part of decorating Mia's modern nursery was watching everything coming together.
From the webmaster:
I adore Anthropologie and have wondered why I haven't seen more nurseries decorated using their modern, Boho chic style. Well, here we have the first and there will most likely be many more to follow AND I love the idea of chalkboard walls in a baby's room!
Thanks for entering your nursery pictures in our baby nursery photo contest and good luck!