Modern Butterflies Theme Nursery, Hand-Crafted with Love
by Carol
(Little Rock, AR)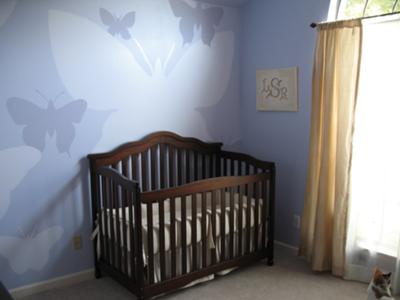 A view of our baby girl's crib, the hand-painted butterflies nursery wall mural in shades of lavender and window treatments.
When I would daydream of decorating Lily's nursery, I knew I wanted to do butterflies theme for our baby girl, but in an untraditional way. I had seen a nursery on HGTV's television program "Rate My Space" that included a graphic alphabet mural on the wall painted using several tones of the same paint color.


I was not drawn to the concept of an ABC's theme but I adapted their ideas using the butterflies that I had dreamed of.



Once the theme of the project was determined I had to choose colors that I liked that would work for a butterfly's wings.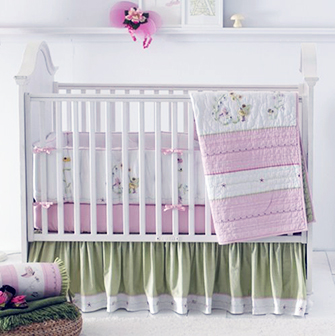 Go here to see more
ideas for a nursery decorated with butterflies including fairies and forest animals.
Getting Started
I had to conduct some research and become acquainted with the process of painting the butterfly wall mural. The thought of undertaking such a large, detailed design was pretty intimidating at first as I had never done anything like it before.
Since I am not trained as an artist, I used a projector to light the images of butterflies onto the wall. Once I had them positioned and in place, I traced the outlines and then painted in the colors which determined the ultimate color scheme of the nursery, lavender and pale yellow.
Customizing Our Baby Girl's Crib Set and Curtains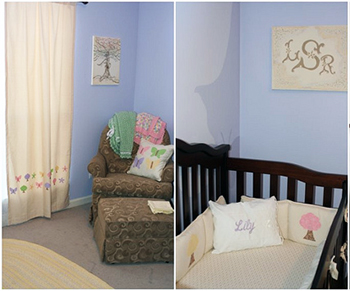 I ordered a plain set of butterfly baby bedding and then personalized it with appliques including trees, flowers and butterflies. I then used the same appliquéd shapes that I had used for the crib set on the nursery curtains and the lamp shade and bought an area rug from Land of Nod.
Butterfly Nursery Decorations to Make
I made much of the nursery wall art myself. I painted the monogrammed artwork with Lily's initials in colors to match the room's color scheme and I did a tree painting. I painted the tree by squeezing paint out of ziplock baggies to get the squiggly lines.
The Best Part of Our Baby Girl's Nursery
If I had to choose one part of the room that I love best it would have to be the effect of the butterfly mural with the hand-painted artwork coming in as a close second choice.
Posting these pictures made me realize how very much I miss this room! We lad to leave this house last year and while I love the way their her room has turned out, I definitely miss the features of the room in our old house that we created with love for Lily.
To see more pictures, you can visit my blog http://johnandcarolshow.blogspot.com/2011/05/our-old-house-lilys-nursery.html.
Thanks for looking!
From the webmaster:
Taking an ABC nursery wall painting technique and applying it to a modern butterfly theme nursery mural took vision! I love the way that you used color to blend Lily's initials, the painted tree and the large butterflies on the wall. Thanks for sharing pictures of your baby girl's nursery decorated in a butterfly theme with
Unique Baby Gear Ideas
. I get the feeling that all of the rooms in your new home are just as amazing as this one that you had to leave behind.