Pink and Red Baby Rose Theme Nursery Decor Ideas for a Girl
Our rose theme nursery decor ideas for a baby girl are the ultimate in femininity and tranquility.  There are options for parents who enjoy a vintage style room filled with memories as well as modern floral options.  A vintage rose theme featuring delicate pink roses in full bloom and tea stained vintage lace  allow the floral print of the drapery and upholstery fabrics to perform a balancing act in a room that might otherwise be too masculine or rustic.

Dusty rose baby nursery decor is the perfect compliment for dark wood floors or ceilings with wooden beams. The quaint, vintage roses will provide an element of elegance and femininity. The combination of patterns and rustic finishes will soften the field of vision and create a calming atmosphere.
A rose theme nursery or other understated floral nursery themes could have the same soothing effect on rattled nerves as a stroll through an English country rose garden.
Pink Toile and Floral Print Fabric Combinations
Decorating with a set of rose baby bedding with vintage floral toile fabrics will set the tone for the quaint look that you want for your cottage garden style room. The subtle shades of pink toile and green trim present a crisp, clean color combination for a girl's vintage nursery.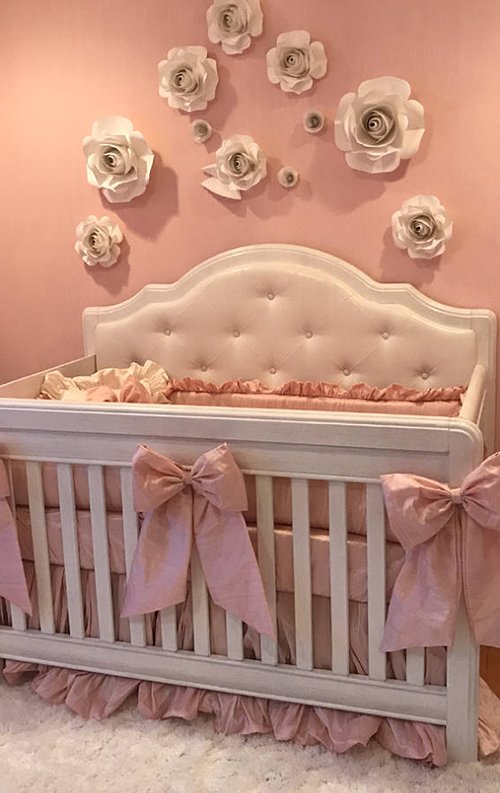 Go here to see more
crib sets and rose themed nursery decor for your daughter's room.
An elegant crib canopy would be an attractive addition to a shabby chic baby bedding set sewn from fabrics covered in antique roses.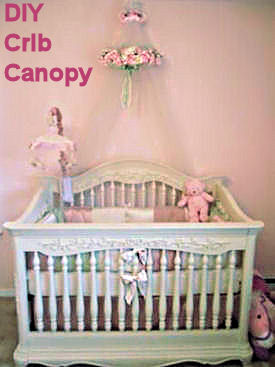 The use of these colors and floral print fabrics will lay the groundwork for a day with the atmosphere of an old English countryside. The shabby chic,baby girl's rose themed nursery will be as soft and soothing as a refreshing spring rain.
An additional advantage of a unifying neutral color palette on the ceilings and nursery walls is that it will make a small nursery appear much larger which may be necessary in most modern homes. However, if your baby's bedroom is suitably spacious and has no need for the illusion of space you might consider painting a mural on the walls using
rose stencil patterns
or using large removable, vinyl
rose decals
or wall stickers to design a quick and easy wall mural to fill the space.
Muted colors are the key to combining stripes with your rose print crib bedding fabrics and accessories. An inexpensive way to carry a bit of striping into the living area of the nursery would be to get some striped nursery rocker cushions in the same colors as you used for the walls. A chair rail of beaded board instead of plaster or sheetrock from floor to ceiling would add a nice dimension to the decor. A shabby chic antique white nursery chandelier would be right at home in this room if ceiling height will allow.
Pick up a braided nursery rug in pastel shades to soften the floor and spoil yourself a little with pretty matching rose print diaper bags. There's lots of other baby bedding and gear in toile print fabrics, too.
Rose Print Fabrics in Combination with Stripes
Your rose theme nursery recites an ode to the rose through the baby bedding with warm rose pink print on an antique white or ivory background and the green cording and stripes on the walls cools it all down. A pink and green color scheme doesn't necessarily mean that that the nursery theme has to be a rose theme nursery, but if a rose theme is what you want it works nicely!
Please make plans to visit
Unique Baby Gear Ideas
again soon to find more ideas for a girl's nursery and decorating advice for a project where the focus is placed on roses.