French Baby Girl Nursery Theme Design and Decor Ideas
We have ideas for decorating a pretty French poodle baby girl nursery theme on this page. There are tips for making your own decorations to complement crib sets sewn from fabric covered in pink poodles as well as examples demonstrating how to blend Parisian landmarks into the room's décor.



Prepare to see rooms decorated with paintings of the Eiffel Tower, images of quaint street cafes with poodle dogs and crib sets made from fabrics covered in pink, white and black polka dots.


Moms and dads have shared pictures of baby girl nursery rooms where they have painted delightful wall murals featuring the Paris skyline and street scenes complete with tourists out for a stroll enjoying the merchandise on display in the boutiques along the way and baby bedding sets that they made that those of you who can sew can make yourself just as they did.


Visitors Interested in Bedding and Decor for a French Themed Nursery Also Enjoyed These Pages:

Girl Nursery Pictures

French Country Baby Nursery

French Country Lamps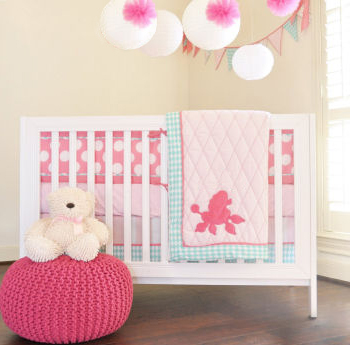 Go here to see more.
Ideas for this nursery design reach far beyond pink poodles!


One of our moms recycled some old furniture that she had in another room of her house into French nursery furniture into sophisticated French nursery furniture and another painted a beautiful Parisian mural on the nursery wall.


The addition of chic rhinestone collars and wall murals of the Paris skyline make this baby room theme so sophisticated and glamourous.



With all the popularity of giving baby girls a French baby name, it's no wonder that French Country and French baby nursery decor has taken off! Paris in spring is a popular new decorating style that is at the top of everybody's list of favorites at the moment.

Nursery Wall Painting Techniques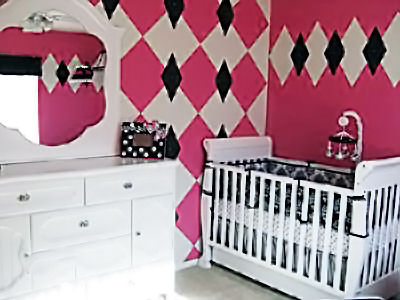 Baby Girl Nursery Design Ideas
SHARE IDEAS - PICTURES of FRENCH POODLE NURSERY DECOR
Do you have a great set of baby bedding or a picture of a nursery that you decorated? Share it!
NURSERY PICTURES, IDEAS and SUGGESTIONS from our FRIENDS
Click below to see contributions from other visitors to this page...

Paris at Dusk in My Baby Girl's Nursery

I chose to create an atmosphere of Paris at dusk in my baby girl's nursery rather than taking a themed approach. The focal point of the room is a wall …
French Baby Room Ideas

This is the crib bedding set that I'm using as inspiration for my French baby room's color scheme. I love the colors and the combination French Poodle, …
French Baby Nursery Not rated yet
The inspiration for the French baby nursery that I have titled as her "Ooh La La Paris Nursery" actually came from Nick Jr. Many of their shows inspire …
A Harlequin wall painting technique has been proven to work well in a Parisian style room. draw off some diamonds (think harlequin French jester style). The best paint colors to with the set of French nursery bedding in the pictures above would be warm cream and cotton candy pink with ebony black as a high contrast accent color.


You might consider painting the wall in a neutral cream color, and then using masking tape create your pink diamond shapes. Using a rubber stamp, tie your diamonds together with a small black polka dot.

Here are some other Parisian theme decorating ideas and nursery accessories that you might enjoy in your quest for the City of Lights:
A table lamp with the shade edged in black ribbon and pompoms! Find pictures of the Eiffel Tower or an Eiffel Tower table lamp!


A crisp pink and white striped nursery window valance with pompon trim


A baby girls boudoir pillow with ruffled edges


Don't forget the musical mobile with some plush stuffed poodle puppy dogs and hearts for your French nursery bedding sets
If your French nursery bedding fabrics feature black and white checks, polka dots would not blend well so a Fleur de Lis or even a fancy bow pattern would be appropriate. This extra embellishment will also cover up any less than perfect joining of the diamonds. Not that
WE
make mistakes, but well....you know. This great nursery painting idea is not exclusive to a pink French poodle themed room. These crafts projects and decorating ideas will work for an older girl's bedroom, too.
This design will work for an infant's room on up to a pre-teen's rooms. Pink poodle decor is very popular in rooms decorated for pre-teens as well as babies.
Re-purposing, Recycling
Does baby's grandmother have some pictures of herself sporting her 50s style poodle skirt? Perhaps she has a poodle skirt pattern that you can borrow to display in your
baby girl nursery theme
? A classic baby nursery decorating idea would be to frame that black and white photograph as part of the decorations! Some vintage French poodle figurines that were displayed on her dressing table would have personal meaning and be very cute.
This is a chic and sophisticated nursery design that presents an excellent opportunity to come forth with some pom poms, ribbons and bows! Black ribbons lend an air of French sophistication to this cute baby girl nursery theme while toning down the ice cream pink and white colors. The pompoms mimic a classic French poodle's top knot!
Choose white chenille fabrics edged with a pompom trim and attach your own narrow black ribbons as accents. Shabby chic or even sleek black French nursery furniture would look fabulous in your French nursery decor!
Here are some ideas for a really cool and unique baby girl nursery theme. I've put together a little bit of diva, a little bit of French Poodle Froo Froo and thrown in some polka dots! The color scheme is pink, white and sophisticated black, but you can change it up to suit your own tastes and baby bedding colors.
You can even venture to try a set of French Country baby bedding as long as the colors are right. The pictures we use are for example only. We try to inspire baby nursery decorating ideas here, the final result should be a nursery design of your own making! Nursery accessories can include some black wrought iron accents in classic designs. The Eiffel tower comes to mind when looking for French style inspiration.
For nursery furniture venture away from the white finish to bring in a contrasting black enamel occasional table. Carry the contrast to the windows by using black hardware to hang your window treatments. The black pieces will anchor the femininity of this baby girl nursery theme and prevent the pink and white from becoming a boring pink and white ice cream landscape. Speaking of ice cream, a few vintage bistro chairs in black with their seats covered in your chosen fabric (a pink and white stripe?) would look stunning in this baby girl nursery. Don't forget to add other accessories such as decorative switchplates with distinctive French designs.
Your baby will sleep like an angel in her beautiful French baby girl nursery theme that you have created for her. Please visit our main themes page to see more chic, Parisian baby girl nursery theme designs and decorating ideas. You should also plan to visit Unique Baby Gear Ideas often to find more ideas for decorating a French baby girl nursery theme room.