Sweet African Safari Baby Crib Bedding - Safari Nursery Theme Ideas
We have ideas for decorating with African safari baby crib bedding sets in unisex as well as gender specific color schemes.  We have tips with many DIY projects and crafts tutorials that will help you make your own décor with pictures to illustrate how they can play a part in the modern safari baby nursery theme.   Take a look to see how these themes can be decorated in so many more colors than just plain green.




See how wild animal prints can be used in bedding and curtains in the latest color schemes and designs that are sophisticated, cute and reflect the peace and beauty of the African plains.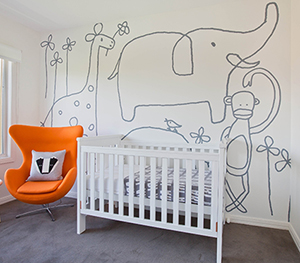 A safari baby nursery design in grey and white with a pop of orange is a very easy and visually pleasing style to achieve.
Modern Jungle Safari Baby Nursery
and Nursery Décor

I found crib sets that had quilts with appliqued baby jungle animals in


.
And all kinds of wild animal print baby bedding sets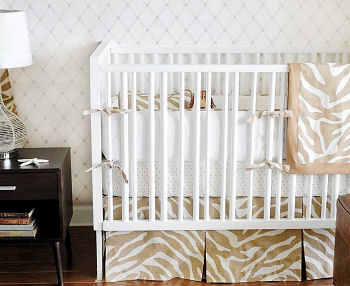 Go here to see more
SHARE IDEAS - PICTURES of YOUR NURSERY
Do you have a great set of baby bedding or a picture of a nursery that you decorated? Share it!
NURSERY DECORATING IDEAS, PICTURES and DECORATING IDEAS
Click below to see the latest vintage theme bedding and nursery decor.


All of these safari motifs are on a beautiful mint green background with enough touches of rose pink to offset the otherwise cool color scheme. The Malawi baby bedding set has so many beautiful colors and patterns that you would be hard-pressed not to find one that you love. The best colors to paint the nursery wall with the Nojo or Malawi baby bedding collection, could be periwinkle blue, sunshine yellow, or even a beautiful salmon pink depending on whether you are decorating a baby boy's nursery or looking for decorative ideas for a baby girl nursery. In fact the only color you would probably not want paint the nursery walls would be a sage green or mint green as there is already a lot of that color in the Malawi crib bedding set.
You could hang one of the soft wall hangings that come with the set. Or you can hang the cute appliquéd baby quilt on the nursery walls. If you are crafty enough to sew in a rod pocket on the back, you can use the baby quilt or comforter that comes with your safari jungle nursery bedding set as a decorative wall hanging.
This set of African safari baby crib bedding may be a little bit tame for you. If you are into bold and beautiful and animal prints, check out one of the colorful designer baby bedding sets by Glenna Jean. This is not a rainforest baby bedding set for the faint of heart. It's a wild and wooly baby nursery bedding set as far as colors and prints are concerned but one that would please any wild animal hunting parent. Wild colors and tropical animals such as panda bears, toucans , tigers, and even a friendly blue tropical snake all on a background of black and white zebra print alternated with a blue cheetah print fabric. There's lots of lush tropical greenery, interspersed on the comforter's surface capable of hiding a friendly orange tiger. There are loads of threatened and endangered animals on this rainforest bedding for baby nursery set that you can use in your baby's unique nursery theme!
These are three examples of African safari baby crib bedding
The solid color set of safari baby bedding will be very forgiving of any jungle theme accessories such as stuffed plush jungle animals or jungle wall murals that you may have in mind
A pastel set of African safari baby crib bedding for the more traditional jungle theme baby room
The more adventurous set of African safari baby crib bedding with lots of characters to give you ideas for nursery decorations for a tropical rainforest nursery theme
There are African safari baby crib bedding sets for most any and every taste. Take the set of safarit bedding that you like to the paint store to compare with paint chips to get the best color match. Take the chips home and tape them to the nursery walls close to the safari bedding set that you choose to see what works best. With a solid color set of baby bedding there will be a need for more accessories and decorations for the nursery wall. If you choose a set of jungle baby crib bedding with a more active or bold print, limit your other nursery accessories to strategic focal points of interest such as
Safari themed nursery lamps and lighting
Unique Themed Children's Light Fixtures and chandeliers
Jungle animal nursery rugs or faux fur rugs
Colorful painted nursery furniture in jungle theme motifs
.
All of these accessories and the best colors for the nursery walls should be chosen with the African safari baby crib bedding set design and overall nursery color scheme in mind. You should be careful not to get too many styles of African safari accessories or the jungle safari baby nursery theme will become chaotic and confusing rather than a peaceful sanctuary where you and your baby can relax.
For some excellent accessories and more nursery decorating ideas try our main decorating idea index page. Return to Unique Baby Gear Ideas to see trendy decorating news as it happens and the latest in nursery themes and decor.