New Baby Leopard Print Nursery Theme Bedding and Decorating Ideas
A leopard print nursery theme is yet another option for designing a room for baby focusing on the allure of the jungle and the animals that make it their home. Before I go any further with my decorating ideas and suggestions for this style of decor, I want to make it crystal clear that I do not advocate the trapping and killing of these magnificent animals for their fur or for any other reason.


If you are one of the few, lucky homeowners who are faced with the challenge of making large rooms with high ceilings feel warm and cozy, paint the walls of your leopard print nursery theme a dark brown to duplicate the color of the leopard's spots. Before you paint all four walls such a dramatic color, consider painting a single accent wall over the head of the crib in your darker color and the remaining three in a contrasting, lighter color.
BABY LEOPARD PRINT NURSERY PICTURES and DECORATING IDEAS

LEOPARD PRINT FOR BOYS, GIRLS OR EITHER
Leopard as all animal prints are perfect for a gender neutral nursery even though some see the brown color scheme as masculine and more suited to the development of boy nursery ideas. If you had your heart set on animal print but would like your baby girl's nursery to have a more feminine look, pink leopard print bedding may be for you.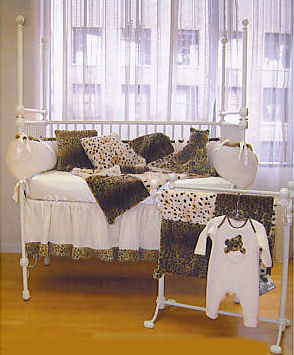 Another wild animal print often confused with leopard is cheetah which features a pattern in black and white.


A cheetah print area rug and Ikea wall art determined the eclectic nature of this unusual room's design.
WILD ANIMAL PRINT NURSERY PICTURES and DECOR
Do you have a great set of leopard, cheetah or any other wild animal print bedding or a picture of a nursery that you decorated in a wild animal theme? Share it!
WILD ANIMAL PRINT NURSERY DECORATIONS, PICTURES and DECORATING IDEAS
Click below to see we found!
How to Paint Leopard Print

Some of the moms here were asking how to paint leopard print on the walls and why I didn't just use leopard wallpaper rather than having to paint individual …
Happy Hippo Baby Nursery Theme

My mom and I freehanded the walls of the Happy Hippo Baby Nursery and all of the painted designs were inspired by my love for hippos. We got ideas for …
WILD ANIMAL PRINT BABY BEDDING Not rated yet
There are times when a zebra stripe or leopard print is the perfect wild animal print baby bedding set but for the decorator who prefers touches of leopard, …
Leopard Print Wall Decorating Ideas
Most decorators prefer to paint the walls a shade of antique white or ivory which gives the leopard crib bedding an opportunity to shine. The lighter color not only makes the nursery light and airy, but under certain circumstances has the capability to make a small nursery look bigger.

However, I highly suggest the use of leopard print nursery bedding as a decorative foundation for your little one's bedroom. To use its natural color scheme as a guide for layering linens and accessories to match your leopard print nursery theme and crib bedding set is a virtual guarantee that your project will be an earthy delight including shades of brown ranging from rich cream to deep chocolate brown.
THE FLOORS
If you have chosen a set of leopard baby bedding that has more than a little of your inspiration print, a large square leopard rug may be a poor choice in floor covering. The most common decorating mistake that I see in exotic animal print nursery themes is too much of a good thing. The key to success in using animal print fabrics in any room of your home is moderation. The last thing you want is for the room to be covered from floor to ceiling in leopard skin pattern. Make a decision as to what part of the baby's room you wish to be the most eye catching early in the process. There's nothing wrong with a solid color set of bedding with a lively leopard print area rug on the floor or vice versa, but to have both may be too much for most leopard print nursery themes.
DECORATIVE ACCESSORIES
Once you have chosen your wall paint color, your animal baby crib bedding and floor covering the next step is to put the finishing touches on your animal print nursery theme. Generally speaking, this would involve the selection of some similarly themed art prints for the walls and baby safe decorations that can do double duty as toys, lighting and furnishings.
Keeping in mind our dedication to moderation in the use of leopard print, there are many ways you can use it in your accent pieces. Upscale lampshades, cushions for the nursery rocker or stuffed toys to entertain your baby are all possibilities for giving your leopard print nursery theme for your little Tarzan or Jane a professional and finished look.
Return to Unique Baby Gear Ideas to find more ideas for decorating a leopard nursery and to find more creative ideas for using animal prints to decorate your kids' rooms or to share your own leopard nursery pictures.