Safari Nursery Pictures
by Toni
(Gilette Wyoming)
I took a lot of safari nursery pictures to show how much I love animal prints. If an item has a pattern with baby animals; I LOVE IT!


Since my husband and I have made the decision not to find out the gender of our baby, I thought it would be an excellent opportunity to put my artistic abilities to work and the results are our baby's gender neutral safari nursery theme.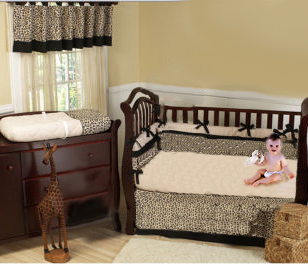 Go here to see more
The first step was making a decision from the large selection of
safari nursery
bedding for the crib.
This was a really difficult part of the decorating process since everything else in the baby's room would be based on the colors and style. It literally took me months to ultimately decide whether I wanted a
leopard print crib set
, a cheetah print or even a
zebra baby bedding
set.
Then came the nursery paint color selection. I spent hours at Home Depot looking at colors and textures. That is where I found the cutest Christopher Robin Tree. It was on a sample of Disney paint. Once I found those decorations, I was on a roll!
I painted half the nursery wall yellow and half green, separating the colors with a blue, white and orange stripe that you can see on the left side of the pictures. All of the colors were matched up with the baby's bedding which is the Cocalo brand.
Once the walls were dry I penciled in the trees (that I had a sample of) then I hand painted the colors. I purchased the giraffe decals to match the bedding and to add a little flare to my hand painted trees.
My mother-in-law made a jungle themed baby quilt to hang on the wall and I threw a leopard print rug down and Wha-la! My sunny and fun
jungle nursery theme
was completely decorated!
Comment from the Webmaster
:
Everyone here at
Unique Baby Gear Ideas
loves your pictures and your nursery ideas! Would it be possible for you to send some photos that give us a closeup view of that gorgeous crib set and could you tell us the name of the bedding collection?