Giraffe and Safari Animal Nursery for Baby
by Marissa
(Littleton NH)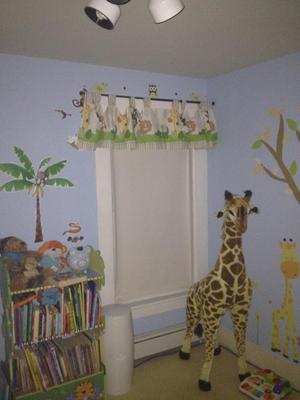 Giraffe and Safari Animal Nursery for Baby
We received a large, stuffed giraffe as one of our gifts at our baby shower and I thought it was the cutest thing I had ever seen . From there on out everything that I bought for the nursery had to do with a cute giraffe or another jungle safari animal.




We knew that we were expecting a boy so we decorated accordingly. We painted our baby boy's nursery walls with a Behr paint color called "Pool Party". Once we finished painting and started getting more furniture for his room I just wanted to keep adding more and more decorations.


Giraffe and Safari Animal Nursery for Baby






Go here to see more.





I found adorable wall decals while shopping on Amazon that I knew would go perfectly with his jungle safari nursery theme so we bought them. They were really pricey so I was hoping that they would look as nice as they did online (we all know how internet buying can go) and I gave a sigh of relief when they were up on the walls and looked fantastic!

After that success, I got really deep into buying more stuff and I came across Teamson's Sunny Safari line of nursery decor. Words can't even begin to express how impressed I was with their products. As we got further into decorating the nursery, we bought all the little stuff that doesn't really have to be mentioned.

The last thing I am going to rave about is the baby's 4 foot tall stuffed giraffe. Not only does it make the nursery look that much more cute, Cameron loves it! Every time I put him close to it he smiles and reaches out to touch it.

I am so very happy with the nursery theme that I chose and I believe if I ever have any more children I will use the same theme and I hope that other moms and dads who see my baby's nursery pictures on Unique Baby Gear Ideas will like it, too!