Safari Nursery Decorating Ideas
by Amanda
(Indianapolis, Indiana)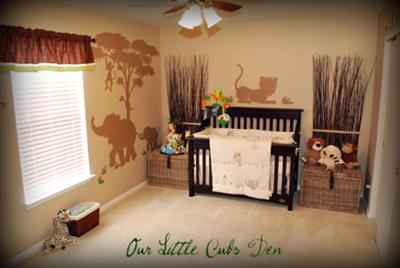 Our Little Cub's Den - Sleepy Safari Adventure
Our safari nursery decorating ideas were all designed to complement our Safari baby bedding set. My husband and I decided on the Sleepy Safari baby bedding by Natures Purest because it was soft, simplistic and had neutral colors. We wanted to do something very unique so we decided to create our own nursery wall decor using some stencil-type wall art that we felt would work perfectly with our safari theme.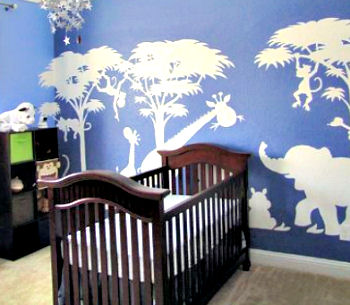 GO HERE TO SEE MORE
I say that we used "stencil-type" wall art because this was a 14 week do-it-yourself decorating project that was extremely time consuming and nothing like we expected painting with stencils to be.
We had to hand trace the designs on each area of the room which took 5-8 hours and then we filled in the designs using small paint brushes (not an easy to use roller).
However, we paced ourselves and once we got the hang of it it wasn't so bad especially since we are very happy with the results. After we had the walls decorated we moved on to the next phase of the baby's safari nursery theme.
We wanted to position the baby lion to hang over the area where we would eventually put our baby boy's changing pad and the mommy lion over his crib to create a little cub's den.
The majority of our safari nursery decorating ideas include neutral colors similar to the crib set so we wanted to add some accent colors. We thought that shades of dark blue, lime green, and burnt orange would look great.
This was accomplished using decorations and adding hand-painted blocks to spell out the baby's name over the closet, which we also did ourselves.
On a shopping trip to Ikea we found some great wicker chests and decorating sticks to add into the room as accent pieces to the bed. These decorative items really set things off and we got the look that we wanted.
Even though we knew that we were having a boy this room could easily be transformed into a girlie girl's room by accenting with dark purple, hot pink and deep shades of yellow.
We love our little Fin's cub den and can't wait to get him in there!
From the webmaster:
Hi Amanda! Thanks so much for sharing your
Safari nursery decorating ideas
with us. It sounds like your stenciling experience took a lot longer than expected...but I agree...the results of your well planned out
jungle nursery theme
are excellent.
If I had to pick one decorative aspect of the baby's room that I like the very best, your creative wall painting technique with the wild animal silhouettes might be first on a very long list. It would be difficult to choose a favorite out of all the excellent
Unique Baby Nursery Ideas
because the room is simply adorable.