WILD ANIMAL PRINT BABY BEDDING
by Jan
There are times when a zebra stripe or leopard print is the perfect wild animal print baby bedding set but for the decorator who prefers touches of leopard, cheetah or giraffe print in their baby's jungle nursery theme rather than large areas of animal print fabrics, a set with a combination a mixture of all of the above works very well.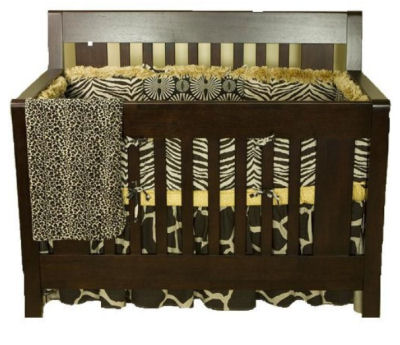 SEE MORE HERE
Animal prints have been popular with the nursery decorating crowd for several seasons. I have seen
zebra print baby bedding
as well as leopard print and cheetah print baby bedding in every color imaginable used with great success. A baby's room decorated exclusively in these patterns can be very tasteful and exotic but some moms want to expose their babies to the shape of the whole animal rather than just another fabric pattern and that's what makes this nursery bedding set unique.
This crib set has a pleasing background of jungle scenery with appliques of baby giraffes on the crib quilt and a set of wall decals designed specifically for this set of wild animal print baby bedding.
Whether or not the size of your nursery can handle the additional decorations like the diaper stacker and lamp shade is your choice. But even a small nursery will be a suitable spot for this cute wild animal print baby bedding set.
We have a large collection of nursery pictures sent in by moms who are more than willing to share their
unique baby nursery ideas
so please swing by our nursery photo gallery to see if there are any techniques there that strike your fancy.