Baby Giraffe Baby Bedding Sets for a Boy's Crib or Pink for a Girl's Nursery
On this page we have the cutest baby giraffe baby bedding sets that will dress the crib in a boy or girl nursery in style. There are adorable nursery bedding sets that are gender neutral, pretty pink giraffe bedding for girls and collections that are all boy. I'm confident that you will find something here to use as inspiration in decorating your little one's giraffe nursery theme to perfection.

Giraffe Safari Animal Nursery Ideas

Periwinkle Blue Giraffe Nursery Decorating Ideas

There are many designs in giraffe print fabric as well as crib quilts and bumper pads with appliqued giraffes and friends in lively colors. If decorating the nursery in a neutral style is your goal, there are many selections that are completely unisex in natural shades of green and yellow as well as plenty to pick from that are obviously for a baby girl nursery decorated in pink or lavender.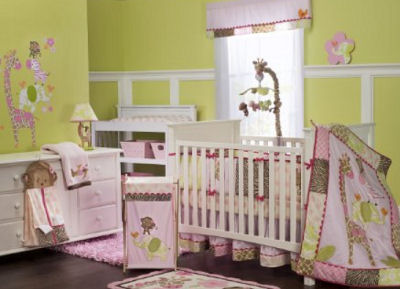 Go here to see more
There are so many DIY decorations in giraffe themes that you can make yourself!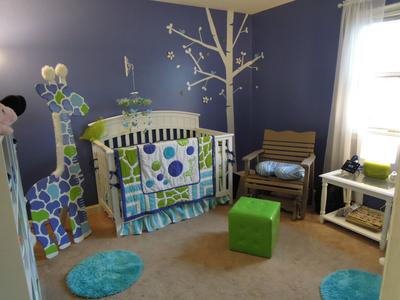 Giraffe Nursery Ideas
A giraffe nursery decorated for a baby girl may have a girly color scheme of lavender or purple rather than basic brown due to the availability of colorful giraffe print fabric.


A chocolate and brown
baby giraffe baby bedding
set with a silhouette of a mother giraffe and her baby is an excellent choice for a gender neutral or shared nursery.
Zebras, monkeys and elephants join in to create a safari-like atmosphere in your little one's room.
Brown and green, the colors that we can imagine surrounding mother and her little one in their natural setting, with a touch of gold and yellow are dominant in many crib sets.
Pink giraffe baby bedding looks amazing in combination with zebra print and polka dots fabric in pink and white or bright, lime green.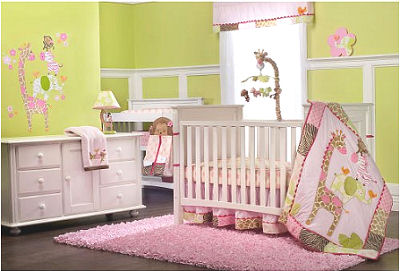 Go here to see more
The large mother and baby giraffe wall decals are the focal point of this nursery.
If moms who have decorated a giraffe themed nursery would please take a moment to upload pictures of the room and share their nursery decorating projects with Unique Baby Gear Ideas' visitors using the form below that has been provided for your convenience it would be greatly appreciated.
SHARE IDEAS - PICTURES of GIRAFFE THEME NURSERY DECOR
Do you have a great set of baby bedding or a picture of a nursery that you decorated in a giraffe theme? Share it!