Sweet Safari Nursery Theme
by Jennifer
(Kalamazoo, MI)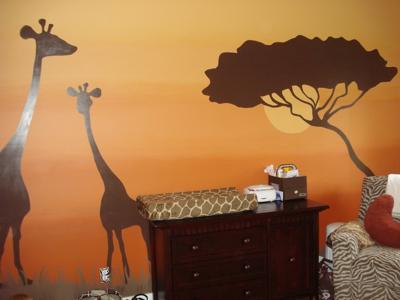 Sweet African Safari Baby NurseryTheme Bedding and Decor
There are so many unique elements to this baby's sweet safari nursery theme that I don't whether to start describing how we chose the baby bedding or the the giraffe sihouettes on the walls!



GO HERE TO SEE MORE
The first step in designing the nursery was to paint a leopard print wall. To balance the wild animal print, on the opposite wall I used a gradient painting technique in the colors of an African sunset overlaid with large giraffe and tree silhouettes. These decorations are custom made vinyl wall decals that can easily be removed if at a later date we decide that we no longer want the African Safari nursery decor. We realize that there will be a time when our little outgrows our jungle nursery ideas.
After I was satisified with the walls of my baby's
Safari nursery theme
I reupholstered the rocker using a Zebra print chenille fabric.
In addition to the other decorations, I also made the the bubble curtains and boppy pillow cover along with the bumper and accent pillows!
From the webmaster:
Jennifer, the gradient wall painting technique that you used for your
jungle nursery theme
is remarkable! Can you please give us more details on how you achieved that effect AND how you painted the leopard print wall?
Thanks so much for sharing your Safari themed
baby nursery ideas
and I'm looking forward to hearing more from you.