Jonas' Safari Nursery Theme
by Ellen
(Indianapolis, IN)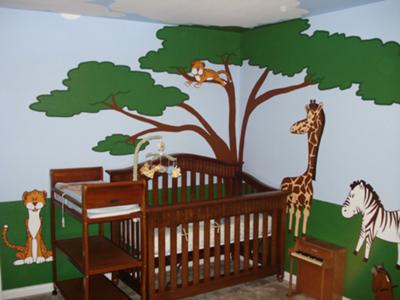 Jonas' safari nursery theme wall mural with paintings of a Giraffe, Zebra, Monkeys and a friendly lion and tiger or two!
My husband and I wanted Jonas' safari nursery theme to be something colorful and fun and since all kids love animals; a jungle theme it is! When we found out we were expecting a baby boy we knew we had to plan for the future.


After we thought things through we decided that we should decorate a room that our baby would continue to love and enjoy as he grew.



We proceeded with the goal of the space being suitable for a toddler and preschool-er.
Go here to see more
We filled our baby boy's nursery with many personalized touches.
See more jungle safari themed baby boy nursery pictures in our photo gallery.
A friend designed and painted the safari mural on all four walls. She drew up some ideas on paper, taking into account the location of the baby's crib, changing table, and dresser. She then used a projector to project and trace her drawings on the walls and then paint them.
The curtains were designed and sewn by our son's grandmother. She chose fabric that matched the blue in the sky portion of the wall mural and the green in the grass. After the window treatments were made, the same friend that painted the artwork on the walls painted some clouds on them using fabric paint. They give the
baby's nursery theme
a very natural, open and airy feel.
Diy Craft Projects for a Safari Nursery
My husband built and painted the bookshelf under the monkeys. He made it in a size that fit perfectly between the closet door and dresser. He planned the height of the bookshelf so that the monkeys that are painted on the wall appear to be standing on top of it.
My husband and I are also very sentimental and we chose to decorate the nursery with a lot of items that belonged to us when we were children. The large rocking chair was the very one that was used to rock my husband to sleep as a baby. The small rocker was mine that I rocked myself in as a toddler. The rocking horse and piano were loved and used by me as a toddler and restored by my husband so that our son could enjoy them as we did when we were young.
Our baby boy is now a month old and enjoys looking at the bright colors on the walls. We look forward to creating many memories with our baby boy as he grows!
I hope that you like Jonas' safari nursery theme. If you have any questions about any of the painting or items that you see in the
nursery pictures
or would like to share your opinion on
Unique Baby Gear Ideas
, by all means send me a message using the comments section!