Tree Mural Ideas for the Wall of Your Baby's Nursery Room
A tree mural can be amazingly easy and quick! You can use a mural kit for a palm tree or whatever kind of tree you want. For an ocean nursery theme, a sailboat nursery theme, a Hawaiian or jungle baby nursery theme of course you would want a mural of palm trees and other kinds of trees you might find in a rainforest.



Paint a pretty blue sky and some sand to go with your trees. Take a look at the pictures of the wall murals below! You may not want as large a palm tree as the one in this picture, but it should give you some ideas on how to paint a mural!


If you don't have time or the skills to paint palm trees or whatever kind of tree you need, there are lots of removable tree wall stickers that can help you to get the job done fast with very little effort.

Visitors Interested in Tree Wall Murals for a Baby Nursery Room Also Enjoyed these Pages:



Tree Wall Decals for a Nursery





If you don't have time or the creative drive to paint palm trees, you can cover a big area with removable tree wall stickers. Colorful palm tree wall stickers are really cute in tropical rooms for girls or beach themed, surfer rooms for a baby boy.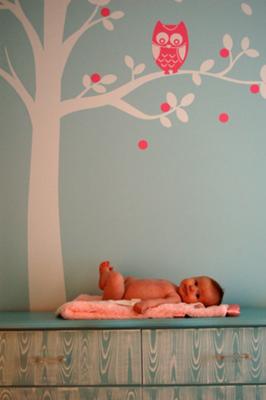 Most any nursery theme will benefit from a painting of a palm tree or other trees painted with loving care on the baby's nursery walls. If you're into family history or genealogy, try painting a family tree mural. There are mural kits and tree mural wallpaper available online, it's possible to do this project yourself at a very low cost without ever attending the first painting class.


Consider adding birds, animals and even insects to your mural to give it a natural look.
GO HERE TO SEE
a selection of removable wall decals that reflect many popular nursery themes and color combinations.


TREE WALL IDEAS
Share pictures of your nursery's tree wall decor. Give us the details of where you found your inspiration, ideas and your products that you used to achieve the designs.
You can find them and lots of animal stickers for your nursery walls online.
You may have to play with the colors a bit, change the leaves to compliment your nursery color scheme and even change the size of the tree trunk to suit your space. But that's as complicated as it gets. Children's wall murals are fun to create and they will love their trees that you put on their walls no matter what.
There are self-adhesive transfer stencils that make the process as simple as taping the design in place and then rubbing the picture on the wall. You can use these innovative stencils to create entire scenes on your walls or even on the baby's nursery furniture.
But by all means give painting all kinds of murals a shot! You don't have to be an old hand with a paint brush, once you gather your facts, instructions and information it's a breeze.
Once you get your feet wet, don't stop with a tree mural, transform an ordinary bedroom into a scenic dream nursery with a faux painting of fluffy clouds floating in a clear, blue sky. A cloud mural goes with every one of our nursery themes on our main nursery theme listing page. If you should decide to change your nursery decor, there will be no need to re-paint the ceiling.
Palm tree murals done by free hand or from a kit like the one at the top of the page will add just the right personalized touch to a tropical Hawaiian, rainforest, jungle baby nursery theme so if you tire of your baby's decor and want to change just pick up the bedding, curtains and accessories, change them out and your tree mural will still be as useful and interesting as the day that it was painted! Later you can add a different leaf shape, stencil a bright pink hibiscus flower,coconuts, a sassy green and pink parrot or cheeky monkey straight from the rainforest will be right at home and give your tree mural a realistic look.
A cherry tree covered in delicate blossoms would compliment a baby girl's decor from French country toile to a French poodle Parisian nursery theme fit for a princess.
If you want the tree to shade a park vignette, place the trunk of your tree mural up one corner of the room which will give a draped effect over a pretty bench or seating area.
See what I mean? Tree murals are versatile! Choose a good neutral foundation color for your wall that will blend well with different fabrics and you've got a wall decoration that can grow with your child for years. If you move often, consider painting your tree mural on a large piece of canvas that you can attach to the wall ,remove when the time comes and carry it with you to your new home!
Kids like to pretend and role play what better way to help them than to paint a forest, or any other fanciful environment for them to dream and play in? That's what a tree mural for children's rooms or baby's nursery is for! Here's a handy tip go to your local discount store and find a pattern for your tree mural in a child's cartoon coloring book.
Rent or borrow an overhead projector or the flat surface type projection system and you're in business! Let your baby's nursery furniture placement be your guide in deciding where you would like your tree to be painted. Close the blind or drapes or hang a dark sheet over the window to darken your room. Practice projecting your image onto your wall. Using your chalk make the outline of your main tree trunk and larger branches. I recommend using a light colored chalk because chalk lines will not be as hard to remove from the wall if you want to change the position or size of the tree mural. You may want to carefully mask the painted area of wall and floor surrounding your work space with cheap brown paper to avoid unnecessary cleanup and touchups later.
THE TREE TRUNK
Begin filling in your trunk dividing the area visually into values. The outer sides and toward the base of your trunk will be where you apply the darkest brown, moving toward the center of the trunk apply your medium value blending the line between the dark and the medium slightly. Apply the lightest of the values to the center of the trunk using the light color to shape the tree and bringing the center toward you while pushing the sides back making it almost three dimensional. You may wish to apply some of the lighter and darker tones on parts of the trunk to make the bark seem rough. Take care that the part of the trunk that will be "shaded" by leaves and the tree roots are of the darker value. Let the trunk dry before proceeding to the next step.
THE LEAVES
For the leafy part of your tree, use your sponges or rags to paint some very faint clumps of "leaves" to form a soft background for your closer and more detailed shapes. After loading the desired paint color (the medium or darker value of green) onto the rag or sponge dab the excess onto a clean piece of cloth leaving an almost dry applicator. A very light hand is needed here. Let the abstract leafy portion of your leaves dry before painting or stenciling the detailed leaves.
Using our basic stenciling instructions, begin to place your more detailed portion of the tree. There is no need to apply detailed leaves if you don't want to. The sponging faux technique may be enough if you are a skilled artist and know how to use the play of light and your color values to simulate the leafy canopy.
Choose at least one forest or jungle creature to live in your mural for a customized decorative touch. Tropical birds, a bluebird, a toy Amazon parrot hung on a perch from the ceiling or an African monkey placed in the branches will make your tree mural so colorful, realistic and interesting to the kids. Browse our nursery photo gallery on Unique Baby Gear Ideas to see many examples of painted nursery wall murals featuring trees, animals or scenes from your favorite storybook.