A Painted Tree on the Wall of Mia's Nursery - Mom's First DIY Painting Project

You need only to see the pictures to see how much style the painted tree on the wall of this baby girl's nursery adds to the room's decor.  The tree mural was designed and painted by mom, Marisca in anticipation of the birth of her daughter, Mia, in March.  She told us that this was her very first DIY painting project of this type and all I could say was, "WOW"!  Great job, Marisca!

Marisca, a fan of Unique Baby Gear Ideas, sent in a photo of her artwork and gave us permission to share it with our visitors.
We were very pleased that she included the names of the paint colors that she used for the project which will save those of you ready to jump in and try your hand at this decorative painting project lots of precious time.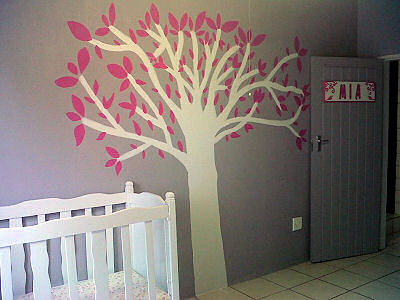 that can be easily be color coordinated with the baby bedding.
This
baby girl's nursery
color scheme features a neutral shade of gray on the
nursery wall
and a white crib. Mom chose to paint the trunk and branches of the tree using white paint that contrasts very nicely with the grey color that was used to paint the wall.
Go here to see
tree wall decals that will help those of you with no painting skills get a painted tree on the wall of your baby's nursery.
She then chose a rosy, pink color for the leaves. The name of the acrylic Genuine Heritage craft paint she used to paint the pink leaves is "Neyron Rose Pink" that comes in a 250ml bottle.
As you can see, the colors used in the tree painting are duplicated in the nursery door sign. The baby's named is painted on the sign in the same shade of pink. Marisca did not indicate that she had made the sign for the nursery door but I would say that there is a good chance that she did as the colors appear to be such an excellent match.
Thanks so much, Marisca, for sharing your
nursery pictures
with others that stop by
Unique Baby Gear Ideas
looking for examples of wall paintings that they can go by for their nursery decorating projects.