Ava's Pink and Green Garden Nursery
by Amanda
(Chilliwack BC)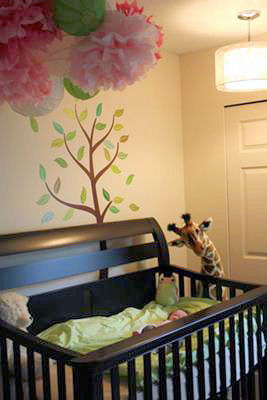 Ava's garden nursery with her giant, toy giraffe watching over our baby girl sleeping in her crib.
I made many of the decorations used in Ava's pink and green garden nursery myself. I made the pom poms and then arranged them in a cluster above her crib so that my baby girl could see all the colours and textures.


Her crib's bedding and comforter were also handmade by Ava's grandmother in a fabric with a light green background with a beautiful little bird pattern. I also made a matching owl for her crib to give her wisdom



The tree that appears to be growing behind her crib is one of my favorite focal points in the space.
SEE MORE HERE
Another outstanding feature is the giant giraffe that watches over my daughter as she sleeps.
In the second photo of my baby girl's nursery, you will see the curtains that match Ava's baby bedding set that her grandma made for her.
As natural decorations for Ava's
pink and green garden nursery
, she has an orchid by her window, tree branches with birds and more pom poms all over her walls.
She and her
baby garden nursery
are not only pretty in pink, but pretty in light green too!
Thanks for looking at Ava's garden nursery pictures!. I hope that you like how I put everything together and that the design will help other visitors that stop by
Unique Baby Gear Ideas
looking for advice.