NATURE THEMED NURSERY
by Erin
(Chicago, IL)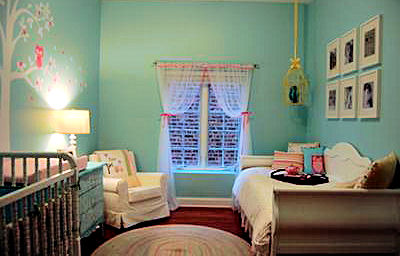 I really love my baby girl's owl, tree and nature themed nursery.
I decorated my baby girl's owl, tree and nature themed nursery without the luxury of a huge budget or a huge room. Even so, the design works great for us. I knew that buying products that are "baby" come with an expensive price tag. So, a lot of our nursery decorations were either hand-made, bought on Craigslist or at garage sales with the exception of the items that were on my registry and given as gifts.




GO HERE TO SEE MORE
My favorite of all the precious
baby nursery ideas
in the pictures has to be the combination baby dresser changing table. I found it online for $40, painted it aqua, and did a faux bois finish on just the drawers, and added new hardware.
Since our baby's nursery also doubles as a guest room I needed a bed to fit. I found this used bed on Craigslist for $100 and we gave it a fresh coat of white paint. I made all of the pillows myself out of extra an crib sheet and some fabric that I had on hand.
I found the
owl tree wall decals
that I used to create the nursery wall mural online and it is just the cutest thing ever.
The
owl crib mobile
was hand-made by me and consists of a set of four owls with personality to spare that are hanging together by stick from the yard.
I hung a bird cage in the corner and put an owl inside of it. I found them both at a street festival. I thought it added a bit of fun to that corner and was in keeping with the decor of the
nature themed nursery
.
We converted the chair in the corner into a rocker ourselves by taking the legs off and put a rocker base on the bottom. You know how expensive those gliders can be! I didn't have the money or the room for one of those expensive nursery gliders so this was the best for us.
I really love my owls!
From the webmaster:
Those pink owls are just too precious, Erin! The little pink owl seems to be watching over your baby in the picture. AND I love the aqua and pink color scheme! I'm sure that moms are going to have lots of questions about many of the homemade decorations and where you got the owl nursery decorations and vote for your entry in the baby nursery pictures contest but but you should still ask your family and friends to stop by and vote for your nature themed nursery since the giveaway closes in a very short time!