Forest Playground Nursery Ideas
by Rachel
(Altona, Vic)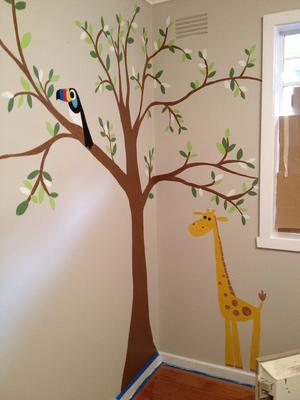 Baby Maddie loves her forest nursery tree wall mural with a colorful toucan and giraffe
Maddie's forest playground nursery ideas features a variety of butterflies, birds and baby animals. There is an owl, a tiger, a giraffe, a bird, a toucan and a monkey on the wall along with a huge tree that I painted.


My daughter, Maddie, loves to look at the mural while she is on her changing table.


So, the wall decorations are not just decorative; they are very helpful to a busy mom trying to dress a wiggly infant.



Go Here to See More
I drew the outline of the pictures and then hand painted them when I was 6 months pregnant. The painstaking process took over 40 hours to complete.
After the tree mural was complete and the animals were painted I stuck cardboard butterflies of all colours and sizes to the branches of the tree. I bent their wings so that they added a third dimension to the wall painting in my
baby girl's forest playground nursery ideas
.
Organic Baby Bedding and Sustainable Wood Nursery Furniture
The change table and baby bed are from Tasman Eco and are made from sustainable wood and her crib sheets are made from organic cotton and bamboo fabric.
Maddie loves her room! I hope that visitors to
Unique Baby Gear Ideas
enjoyed seeing my nursery DIY painting project and decorating tips.