Baby Ocean Theme Nursery Ideas
DIY Ocean Nursery Crafts and DIY Projects, Decor and Bedding Ideas
We have some ocean theme nursery pictures that have lots of ideas for ocean nursery DIY and crafts projects  for many different aquatic themes with crafts projects and decorations that you can make yourself. Our photos will inspire moms and dads to try their hand at painting their own  underwater murals featuring sea creatures as well as to make their own creative mobiles featuring starfish and seahorses as decorations.
We encourage you to visit our photo gallery to get ideas for the best paint colors for the walls of this magical room that will introduce your baby boy or girl to the wonders of the ocean. To be sure, this natural theme is very broad and open to many interpretations but we're here to help you narrow down the possibilities of this decorating project and hopefully save time and money!
With the right color scheme and the right set of bedding and accessories you can easily recreate the atmosphere of a day at the beach. Each person's view of the colors and décor associated with the sea is subjective. The broad range of tastes is perhaps due to the fact that there are so many underwater activities and hobbies that center around the beach and sea. What may be perceived as an ocean theme to one person is a girl's beach-y theme to another.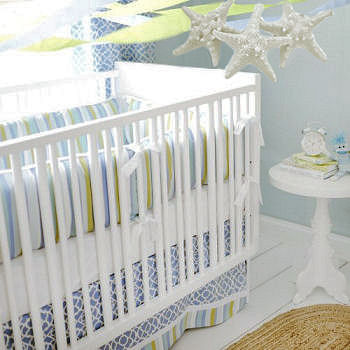 Go Here to See More
ocean nursery bedding sets and starfish that can be used to make your own DIY baby mobile to hang over the crib.
There are many decorative elements and styles of decor that are closely tied to the ocean. It might be possible to create a unique nursery design around any of these locations, hobbies or interests while keeping the focus on ocean themes such as a
shark nursery for a baby boy
and others.
A blue wall in an ocean nursery theme is appropriate for both a baby boy or girl. Add a splash of purple or pink for a girl's room, blend in red and navy blue for a boy. Go with a mixture of all of the above and tropical fish and sea creature decorations to design a gender neutral nursery that will grow with a child for many years.
There are many decorative elements and styles of decor that are closely tied to the ocean. It would be fun and easy to create a unique nursery design based on a favorite beach or water sports (like surfing) while keeping the basics of an ocean theme.
SHARE IDEAS - PICTURES of OCEAN NURSERY DECOR
Do you have a great set of baby bedding or a picture of a nursery that you decorated? Share it!
NURSERY PICTURES, IDEAS and SUGGESTIONS from our FRIENDS
Click below to see contributions from other visitors to this page...

Here are some suggestions for decorating in associated themes that are not exactly ocean nursery themes:
Surfers
Fishing themes
Sailing Themes
Underwater Sea Creatures. Whales, octopus, fish, aquariums etc.
Seashells
Scuba Diving
Mermaids
Pirates
Ocean baby nursery items and accessories for most of these ideas are readily available. From underwater murals to crib sets covered in sea creatures you can find loads of cute stuff manufactured specifically for use in decorating an ocean themed baby boy's or girl's nursery.
Ocean theme nursery wall decorations are as cheap as shelves decorated with your seashell collection to framed art prints. Here are some ideas:
Shadowboxes with Starfish
Anchors - the Antique
Tropical fish stickers
For a contemporary beach theme, paint a mural of the beach and open horizon on the wall. Place a Cape Cod Saltbox just over the dunes with some swimsuits drying and ready to wear on a clothesline. Include some beach toys, a bucket and other baby beach gear left on the sand after a perfect day at the beach in your underwater baby themes. Use some textured paint for a real sandy feel to the walls.
Stencils, stickers and decals are as always an excellent shortcut in painting your ocean or baby's underwater theme nursery wall mural.
If you prefer a more natural approach for the room, decorate the walls with pictures of baby sea turtles, baby sea otters and baby sea lions frolicking in the surf. Order sea life baby bedding from a natural wonders store. Gather baby safe seashells and dried starfish to add texture and color to the room.
For a child's underwater nursery theme turn baby's nursery toy chest into a pirate's treasure chest theme rescued from the under the sea and decorate the walls with authentic looking pirate hats. Paint an underwater mural full of tropical fish and other sea creatures on the wall.
Paint a mural of the deep sea complete with fish, seaweed, a ship wrecked pirate's ship, colorful coral and a shark or two with faint rays of sunshine filtering down from the surface.
WINDOW TREATMENTS
Sew rod pockets in your favorite beach towels to use as a colorful valance or curtain panels. Use a rope fish net as part of your nursery window treatments. Drape it so that you can make an arrangement of seashells or starfish inside.
OCEAN BABY GIFT IDEAS
Do you know a mom who is decorating her baby room with an ocean theme? Pick up an inexpensive set of beach toys that comes in a cute bucket, fill it with baby safe sunscreen, an infant swimsuit and a sun hat. You will be amazed at how cheap it will be to use your own ocean theme baby gift ideas and so much more eye catching and creative.
Plan to visit
Unique Baby Gear Ideas
again soon to find the perfect room design with ocean nursery ideas and decor featured in pictures of projects sent in by real moms and dads.