A Little Man's Under the Sea Theme Nursery
by Jan
The are many dreamy underwater scenes in our little man's under the sea theme nursery. We featured lots of tropical fish and ocean creatures that you might expect to see when scuba diving near a coral reef in a warm and sunny location near your favorite beach.br clear="all">

The crib quilt features a variety of ocean themed characters including tropical fish, a friendly, blue octopus, a sea turtle, a sea horse and even a crab.




My husband and I took a trip to the Virgin Islands on our honeymoon and have been in love with everything "ocean" ever since.
Go here to see more
crib sets and sea themed nursery decor for your baby boy's room.
The nice thing about an ocean theme nursery is that there is such a broad selection of decorations available including some pretty items that will be functional as well as decorative swings that coordinates with many crib sets.
Decorating the Nursery Wall
Get some free fish stencils for the walls and paint ocean creatures in colors to match the crib set.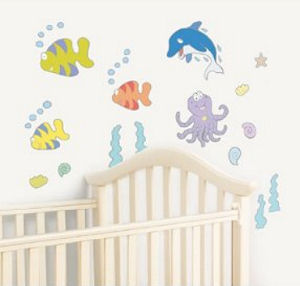 Go here to see more
Another (quicker and easier but slightly more expensive) option would be to create a mural using fish wall decals. If the colors that you need aren't available, there are many, many vendors online that specialize in custom decals; you can even have them personalized with your baby's name! A personalized wall decal would also make a lovely gift for a boy!
There are so many color possibilities for a little man's
under the sea theme nursery
and many DIY decorators choose baby blue paint for obvious reasons. But as we see from this
baby boy nursery
design; sea green is a lovely choice when accented with turquoise wall decor and an
ocean theme baby bedding
set.
Because of the color scheme and carefully chosen furnishings this nursery will easily transition into a big boy room that will last quite a while as all kids love the ocean.
Please visit
Unique Baby Gear Ideas
often to find more pictures of underwater themed nurseries.