Marine Life Under the Sea Nursery Theme
by Stephanie
(Fowlerville, MI USA)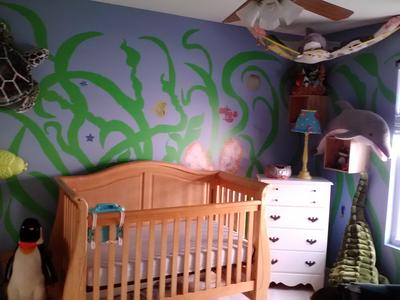 DIY under the sea ocean creatures nursery wall mural painting and a natural wood color baby crib that is close to the color of seashells.
We wanted our marine life under the sea nursery theme to feel like you are really swimming in the ocean.

There is a painted portion of the wall mural that depicts underwater plants and greenery that seems to be swaying with the movement of the water.


The painting includes fish and small sea creatures that can be found in the ocean like starfish and colorful tropical fish swimming in and out among the seaweed.



After the mural was painted, we added large seahorses, stingrays, frogs, lizards and other creatures.
Go here to see more
We added lots of colorful features to the underwater scenery.
We wanted the décor to have a very natural appearance including the baby's crib which has a natural wood finish that, at first glance, very close to the color of the inside of some seashells.
I hope that visitors to
Unique Baby Gear Ideas
like our nursery's "underwater" style and that it will inspire others to jump in and share their
baby nursery pictures
.