Ocean Wonders Nursery Theme
by Heather
(California, USA)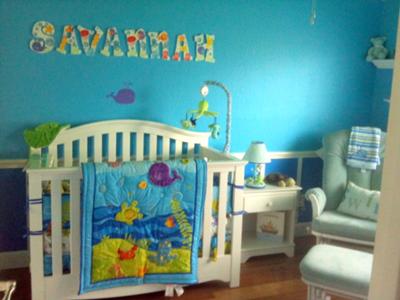 Our Baby Crib With Ocean Wonders Nursery Bedding Custom Ocean Wonders Wall Letters, Bubbles Lamp, Turtle Nightlight Sea Green Glider With SWIM Pillow
We are about to have our first baby and want to go all out with an Ocean Wonders nursery theme. I worked as a dolphin trainer for many years and we both have a huge passion for the ocean. So once I found out I was having a baby girl I wanted to design a room that would express both our love for the ocean and my love for marine life!


We did an under the sea type of theme and we call the nursery Ocean Wonders.



My husband who works as a contractor wanted to do custom paneling for her room.
Go here to see more
.
The bottom half of the room that is dark blue is actually wood cut, sanded, painted and put up, he then cut and painted the white panels that overlap the dark blue wood, and then cut and painted the crown molding that goes around the middle of the room.
Ocean Baby Bedding
Her ocean nursery bedding is called Ocean Wonders from babies r us and contains various colors. We wanted to have the room be bright, colorful and stimulating so we choose blue, green and purple as the primary colors. All of the paint we used was disney colors bought at Lowes. We choose two colors of blue for the wall to represent the ocean and painted the ceiling green. In her bedding she has a purple whale, so I used that as the main character to put up on her walls and painted on a huge purple whale above her changing table and a baby one above her crib under her name. Her furniture was all bought at babies r us and her gilder was custom ordered to have the white wood and sea green fabric to match Savannah's decor.
We didn't hold back creating her room's design and detail was very important! Her diaper stacker, diaper bag, bedding are all ocean wonders theme from babies r us. I had her lettering, light switch, art work and diaper wipes case all custom made through ebay to match her ocean wonders bedding theme. Ocean wonders is her primary theme, but I did mix it up a bit to create the best under the sea nursery and her mobile and lamp are the bubbles theme from babies r us and her hamper is called sea babies by babies r us! Her ceiling fan is all the colors of the room and was bought at home depot.
The amount of detail we put into this room can't accurately be shown due to the limit of the number of nursery pictures to upload. However, inside her crib we did ocean wonders soother with music, a frog in the corner that has her recorded heartbeat inside, a stingray stuffed animal that is green and blue which matches the green and blue colors of her walls and it sits on the outside corner of the crib. Her baby book that sits in the corner of her nightstand is baby animals and ocean theme, the SWIM pillow that sits on her glider was custom ordered through ebay, her whale fuzzy blanket that sits on the headrest of the glider was bought at babies r us, she has 3 ocean wonders art prints in white frames above her window that was custom ordered through ebay and one art print says "wonder", another says "believe" and the last one reads "imagine". Next to her glider is a light blue bucket with dark blue strip that was made to match the paint on her walls and holds all her books. The custom made bucket sits next to the glider so that can easily pick a book to read while rocking her. Inside the book tin has 3 pinwheels added for decoration and to go with the colorful theme of the room. On her changing table in her blue & green diaper caddy that was bought at lowes contains her custom made diapers wipe case, along with matching burp cloths. The interior of her mirrored closet is painted green to match the ceiling and contains her whale tub that goes with her Ocean Wonders nursery theme.
Our baby girl's Ocean Wonders nursery theme was extremely fun to put together and I hope that you enjoyed seeing all of the nursery ideas and pictures of nurseries during your visit to
Unique Baby Gear Ideas
and that you will stop by to see us again soon!